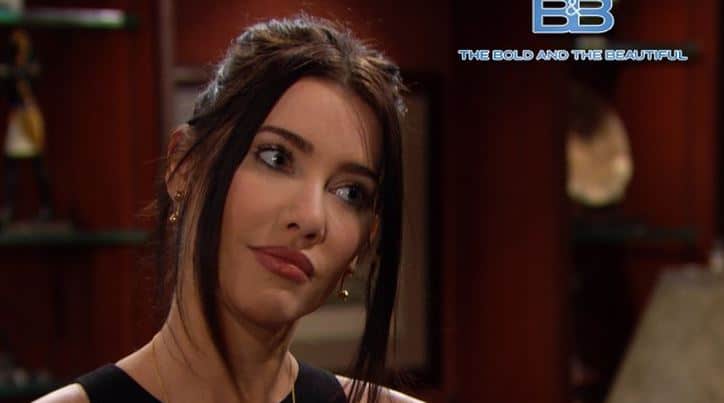 The Bold and the beautiful fans watched a lot happen last week, and it's all been so interesting. We will start with Brooke. She's upset that her husband has to choose between his own daughter and her own daughter to keep one line that they created. Both are amazing, but Forrester can only keep one line going. She wants her husband to choose her daughter's line over his own daughter's. She's also told her family that she feels her own sister is wrong to try and take full custody from her child's father, Bill. She's on Bill's side, and they spent the past week bonding as he's been making threats to her sister, Katie. She supports him. He's opened up to her, and they are certainly having an interesting bonding session these days. It's been a very interesting situation, and we aren't sure we think it's good news for anyone.
And then there is Hope. She's having some complications with her pregnancy, and Steffy was there for her and Liam. She's not in love with the fact that he spends so much time with Steffy so he can see Kelly, but he has to be with his own baby throughout this process. She does have to get used to that, and she has to get over that. She also has to stop and face the fact that her line is on the line. She wants it to be the one chosen, but she's a newlywed with a complicated pregnancy, and she's not even entirely capable of spending her time focusing on the line. Steffy is the better option. She lost her husband to Hope, and she should get this right in this situation. And that's making everyone uncomfortable and unhappy with the way things are going. We can't predict what might happen, but it might be ugly.
What's Happening on the Bold and the Beautiful
https://twitter.com/BandB_CBS/status/1038118886116229120?ref_src=twsrc%5Etfw
She's lost everything in her life to Hope this year, and she's made it her point to make sure she loses nothing else to her stepsister. Hope's been gone for years, she's back with a vengeance, and she's wanting everything and everyone to just give her what she wants. Meanwhile, Steffy's been working on this business for her entire adult life, and she's not giving it up. We are all about team Steffy here, and we think you should comment with your personal feelings on the situation.
What's Next on the Bold and the Beautiful
TODAY: Brooke grills Ridge to find out which line, or more precisely, which of their daughters, he will side with. #BoldandBeautiful pic.twitter.com/3Rd69HmNlH

— Bold & The Beautiful (@BandB_CBS) September 7, 2018
Things are getting ugly. Brooke, once again, cannot stay out of things that don't concern her. She's now taking her problems with the fact that Hope might not get her line pushed forward to Steffy. She wants her stepdaughter to — once again — step back and let Hope have everything her little heart desires while Steffy just sits back and does nothing. Brooke already told her to do the same thing in terms of Liam, several times, even when Liam was Steffy's husband and Hope merely came home and wanted to be married to him instead. Brooke spends a great deal of her time asking Steffy to back down so Hope can have all her dreams answered and her wishes come true. Her actions never fail to amaze us.
And that's going to turn ugly. When Brooke and Steffy fight about it — again — Ridge will once again find himself in the middle of a decision that means he has to support his daughter or his wife. He hates being in the middle of this situation, but that's the way things go with Brooke. She's never mature enough to leave well enough alone or stay out of everyone else's business. She just cannot do it. It's a mess she has to deal with, and it's been an ugly situation for all involved. We are not amused by her, and we think that her husband is also growing tired of her games and her immaturity. We'd like to see him leave her be and move on with someone else.
Stay tuned for more The Bold and the Beautiful and be sure to check out TVOvermind daily for the latest The Bold and the Beautiful spoilers, news, and updates.