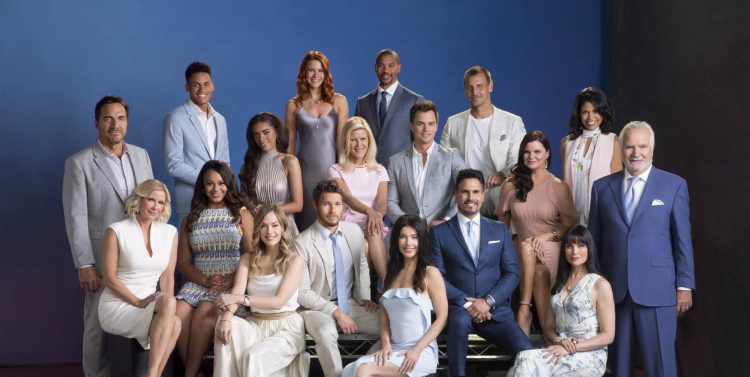 Bold and the Beautiful fans are sitting over here with shaking heads and rolling eyes thanks to all that is going on with Brooke. She was literally just making out passionately with Bill, her sister's man, last week, and now she's got her own husband moving back in with her and she's created this entire romantic night for them to spend together in their own home, and she's acting all passionate and happy about that like she's not just thinking about another man and kissing him, too. She's a horrible person, and she cannot even see that about herself. She is literally a joke, and there is little we can do about that right now except for see it through the way that it was meant to be seen through. It's all ugly, and we cannot stand watching it unfold.
Then there is Sally, who is doing all she can to keep Wyatt from finding out about her health. She's keeping things to herself, including some text messages from her doctor that she's not talking about. She doesn't know that he knows, and she's not sure she can tell him and risk losing him again. But, that's all a mess. She's lying to him, essentially, just as much as he is lying to her. They are so in this together without her even realizing just how much they are in this together. She's afraid she might lose him if he finds out, and she has no idea that he already knows and that is why he is with her. She has no idea there is no way she will lose him during this. She's not there yet, but she has to tell him sooner rather than later, we think. Will she? We don't know.
What's Happening on the Bold and the Beautiful
Douglas sets a sweet surprise in motion and for Liam, Hope and baby Beth. WATCH FULL EPISODE: https://t.co/03PAEqWBiu #BoldandBeautiful pic.twitter.com/CD7Q5gJcmv

— Bold & The Beautiful (@BandB_CBS) March 16, 2020
I mean, he's so sweet.
What's Next on the Bold and the Beautiful
Brooke and Ridge's love is stronger than ever, but will it last? See if Ridge finds out about Brooke's secret kiss this week on #BoldandBeautiful! pic.twitter.com/O8ZCsToR8Z

— Bold & The Beautiful (@BandB_CBS) March 15, 2020
Shauna is not entirely happy right now. For one, her daughter is alone and not with the man she loves and she's not sure that this is something that is good for her. She has no idea the truth behind this one, so she's stressed about it. Then there is the fact that she also has to face the fact that her man went back to his wife and they are all happy and ready to get their lives back on track. But, she mentions something to her dear friend Quinn that might just make things change the game a bit. What does she mention? Well, she does seem to realize that things are changing and that people are unhappy in many capacities, but she also seems to realize that things aren't going well in any way. She seems to realize that there is a lot going on with people like Ridge, and it might be something that Quinn can use to get what she wants.
Hope and Liam seem to be in a good place right now since Douglas did what he could to make sure that they got to be together. Their little family seems to be a bit more complete now that he has changed the game and made it all about them rather than about himself. Will they actually be together this time, or will they end up realizing that they are not where they need to be to be in this place? We cannot tell, but we think that it will end up being crazy.
Stay tuned for more The Bold and the Beautiful and be sure to check out TVOvermind daily for the latest The Bold and the Beautiful spoilers, news, and updates.