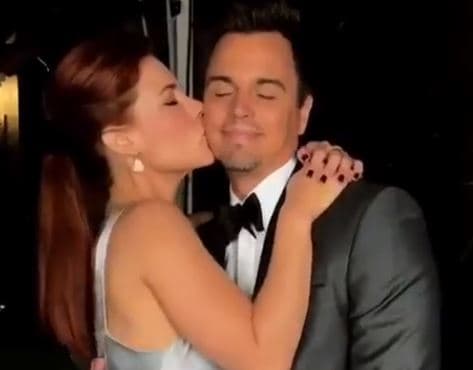 The Bold and the Beautiful fans aren't big fans of long weekends, but it does give us a chance to recap what is going to go down in the coming week based on what happened last week. For one, we saw a lot of Hope and Katie. Katie just wants Bill to be a good father to their son after watching all he's done to his other sons, Liam and Wyatt in their lives. She wants more from him where Will is concerned, and she's afraid he just can't provide what she's looking for in terms of what she needs. So, she's upset, and we don't blame her. She's unhappy that he doesn't seem to get what is going on and how he can go about keeping this all out of a problematic territory. They are in the middle of issuing threats to one another, being mean, and dragging others into their problems.
And then there is Hope. She has realized that nothing she can do will ever change the fact that her husband is a father, and not just to their unborn baby. He is the father of a little girl he had with Steffy when they were married, and he will never not be there for his daughter. She's not loving this as she keeps finding him with Steffy and the baby, but that's what happens when you have a newborn baby and an ex, and she doesn't like it. She's basically left feeling like a second-class citizen, and nothing anyone says can change the fact that she has to get her life together. She's not happy, but we know that her mother will be even more upset by all of this. It's what's been happening.
What's Happening on the Bold and the Beautiful
https://twitter.com/BandB_CBS/status/1035232761269768193?ref_src=twsrc%5Etfw
Can we just throw it back to this look more than once? Can we have a throw back from the show every day because these things are phenomenal, and we cannot stop staring at them as we work to make things more appropriate. We love a look like this one, and we want you to know that you are going to love it just as much as we do.
What's Next on the Bold and the Beautiful
https://twitter.com/BandB_CBS/status/1035219886337748993?ref_src=twsrc%5Etfw
The great news, fans is that CBS has decided to air a brand-new episode of this show today after rumors swirled for weeks that it would be pre-empted for the Labor Day holiday. You get to see your favorite characters and all their drama, and we will start with Katie. Bill has threated her more than once in the past week, and she's terrified. She wants to do what she feels is best for their son, but he's told her he will use her alcoholic past to take her down if there is a chance he can get the boy all to himself. Thorne is going to spend the day telling her that it will be all right, there will not be any major problems, and that they will have a chance to make this right at some point. For now, however, there is nothing we can do about that.
And then there is the fact that Steffy is going to be there for Hope and Liam. They are afraid, and she will be there to make sure they get through this. She knows that there is nothing more terrifying than a baby at risk, and she will not stand around and watch them suffer. She's been a different person since she became a mother, and we really do like the new version of her she's brought to the table. It's good news for everyone, and she's really made a difference in the way things are going for all of them. We are appreciative of that.
Stay tuned for more The Bold and the Beautiful and be sure to check out TVOvermind daily for the latest The Bold and the Beautiful spoilers, news, and updates.