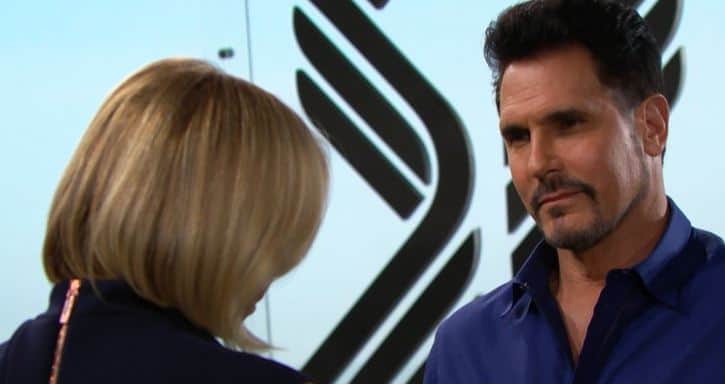 There's a bit debate on The Bold and the Beautiful right now, and it's between Ridge and Brooke. But, for once, they are actually on the same page about the way things are going and how they will work out for everyone. Let's see where to begin. There's a situation where they are discussing who they feel is the more dangerous person in this scenario. They both know what happened with Bill and with Taylor, but Ridge is not all that upset that she shot the man those months ago. Brooke is not happy that this happened, but Ridge is just above and beyond caring that the man he dislikes so much did this. He's not really into it at all, but that's all we know about that. Brooke has shared with him what she has learned, and he's not really as upset as she is, but they do have a discussion in the moment.
Who is more dangerous? Is there a chance that Taylor is more dangerous than Bill or is it the other way around? They both seem to have their own feelings about things. She thinks that Taylor is the bigger problem, and he feels that Bill is the bigger problem. We are very much inclined to agree with Ridge on this one. We think that Bill has been and will always be the most dangerous and the most disgusting of the two. There is a lot going against Taylor, but this is one of those things in which we just feel that she's not the bigger problem in the grand scheme of things. She's far less dangerous than this man who is always around causing problems for everyone in the entire city. He's a problem, and Ridge knows he's a bigger problem. It's amazing to us.
What's Happening on the Bold and the Beautiful
It's time to break out the tree and decor here at #BoldandBeautiful! ✨ Need some holiday inspiration? Check out these close-ups of the decorations at the Forrester mansion from the past for #ThrowbackThursday. 🎄 pic.twitter.com/5deC4E9ljT

— Bold & The Beautiful (@BandB_CBS) December 6, 2018
Things are always looking up when we get to see things like this, and that is what we love so much about this show. They love us, and we love them, and we cannot even believe they are always so happy to bring us things like this. It makes us feel good.
What's Next on the Bold and the Beautiful
https://twitter.com/BandB_CBS/status/1069244802254888961?ref_src=twsrc%5Etfw
Liam and Hope cannot let go of what they feel they know about Taylor. They've decided that she is totally and completely unstable, and they are going to fight to make sure that she cannot spend any time with baby Kelly. She is not Hope's daughter, but Hope supports her husband. Steffy is not happy about this. She knows what her mother did, and she's okay with it. Well, she's not okay with it, but she knows her mother doesn't want to hurt anyone else and she is not a shady character. She's just a woman who wants to be sure that her own family is safe and that things work out for all of them. But, that doesn't seem to be a problem for anyone else. They are all mad at her and want to see her fail.
She's not about that, and she's about to make sure that everyone is aware of it. She's not going to sit back and allow anyone to mess with her mother. Taylor, however, is going to open up to her daughter and Ridge about what she feels might happen. She is afraid that they will turn her in, she will go to jail, and she will not get to see her granddaughter grow up. She's concerned, and they will go ahead and do anything they can to protect her in this time. It might not be pretty, but they will do it. We might consider this yet another nail in the coffin that belongs to Ridge and Brooke's marriage — which isn't good.
Stay tuned for more The Bold and the Beautiful and be sure to check out TVOvermind daily for the latest The Bold and the Beautiful spoilers, news, and updates.