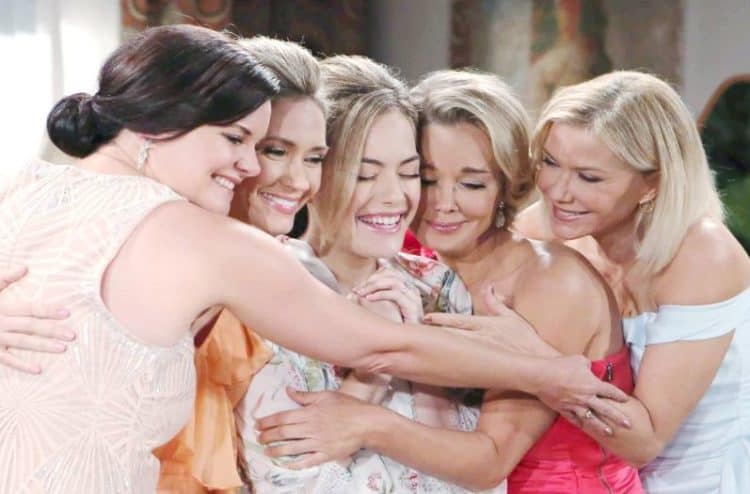 The Bold and the Beautiful fans are loving all that's going on. It seem that more people are getting along than not, and that's always a big deal. There aren't as many people fighting and throwing things at one another and causing problems, and we love it. We saw a big week from Steffy as she continues her parade into adulthood realizing she is a strong woman who can do anything and everything she needs to do. We saw a lot from others, too, and we are so happy for all of it. We saw that there was a moment when Hope and Liam had a big conversation about their future and got engaged. We saw them decide to invite Steffy to their wedding to see them live happily ever after. We saw Steffy decide to go and be there for the man who is the father of her daughter, and we saw her invite her mother.
We saw Brooke lose it over that. it's not her wedding to make that decision for, but that's not always something she sees fit in her own mind. She sees things as them being her own way of life, and her own way of doing them, but that's fine. She wants to control everything, and that's not who she needs to be. She's going to continue to cause problems in the lives of others if she cannot get her situation under control. She's in a place right now where she's able to back off and let it be, but she can't do it. So she's fighting with everyone who dares to do anything she doesn't see as being part of her everyday life. Bill and Katie had a nice moment in which they agreed to be better to their son, Will, and Bill lost it when he realized Katie was dating Thorne.
What's Happening on The Bold and the Beautiful
Because there are so many great #BoldandBeautiful weddings, @JohnMcCook44 and @RenaSofer had a hard time choosing one to be their favorite! Who's ready for another amazing B&B wedding?? The countdown to Hope and Liam's big day starts now! 👏 pic.twitter.com/ITycugsF4a

— Bold & The Beautiful (@BandB_CBS) August 17, 2018
Here is the kind of stuff we like to see. Eric and Quinn have been to their fair share of good weddings over the years, and we've got the best news for you. They are checking in to see which wedding of all time that they've seen on the show, been invited to, crashed, or been involved in is their own favorite. Who do you think they will pick as their favorite wedding host and hostess? Themselves? They did get married, too. Or will they pick someone or something else? You can give us your answers, too, in the comment section.
What's Next on the Bold and the Beautiful
Their BIG day has finally come in the wedding that totally takes the cake.
💍👰🎂 Make sure to tune in to #BoldandBeautiful this week! pic.twitter.com/bgeQ4HiE1Y

— Bold & The Beautiful (@BandB_CBS) August 19, 2018
It seems that things will always turn around and be a pain for those who live in this community. We already know that Brooke will do anything and everything in her power to prevent her stepdaughter from attending Liam and Hope's wedding, but she's also making it her mission to get into problems with Steffy's mom, Taylor. Steffy asked her mother to join her as her date to this wedding, which won't be easy for her, and she's letting her mother meet with Brooke to work through some personal issues they have with one another. But that might not work as they are planning it to work. You see, Taylor really does want to ruin the wedding, and Brooke can see that. And this is going to make things so much worse.
The simple fact that neither of her parents can actually support her decision to be alone is going to get to Steffy. She's good where she is and with what she is doing, and they need to get that situation into their own minds. They can't do it, though, and it's not a big surprise to any of us. They can't seem to make things work at all, and they can't be happy for her. They want to see her with Liam and they want her to 'win' the same way that Brooke seems to want Hope to 'win' as if Liam is some sort of trophy. In fact, the best way for them to win is to not be with him at all. He's not worth it.
Stay tuned for more The Bold and the Beautiful and be sure to check out TVOvermind daily for the latest The Bold and the Beautiful spoilers, news, and updates.
Tell us what's wrong with this post? How could we improve it? :)
Let us improve this post!