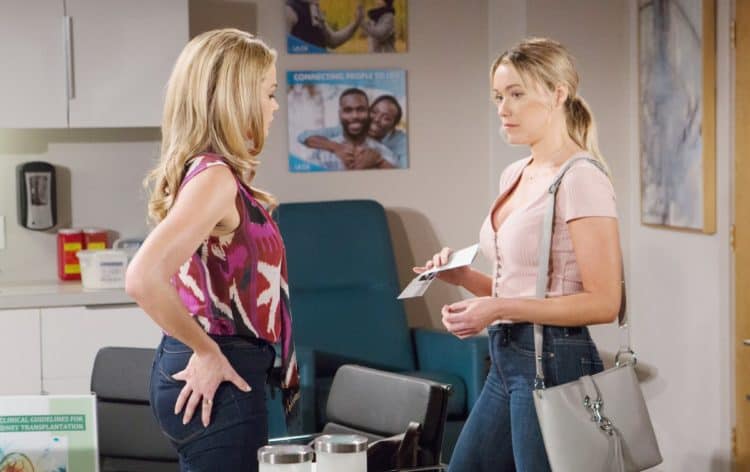 Bold and the Beautiful fans aren't surprised that Shauna is still pushing her daughter to do things for other people. She wants her to give a gift to the Forrester and the Logan families so that they will forgive her. She likes the life she is living right now, and she is relatively happy about what it means for her and how it will make her feel good. She is someone who has a lot to offer everyone in her life, and she's definitely upset about what is going on. She forgets that she created this situation on her own, and she had a chance to make it right before it all blew up and she did not do that. And now her mother wants her to continue to suck up to everyone. Will it work? And what will Flo decide to do with everyone and everything?
Of course, there is a very special situation that is going on with Katie. There is nothing that will make everyone feel good about her life, and there is nothing that will make her feel better except for the situation that is going on. She has to have a new kidney. She has to focus on things in her life that are good. She has to get her life in order, and she has to focus on what is going on. She's got to get a kidney, and she's got to focus on spending as much time with her son and with Bill as she can. Things are not looking good for her as she waits for someone to donate a kidney that matches hers, and it's something she's hoping will happen soon. You already know what we think will happen, of course, but we aren't going to say we told you so — at all.
What's Happening on Bold and the Beautiful
Guest modeling on the show today… it's @BandB_CBS star @TheCourtneyHope! pic.twitter.com/lakGMSyCOV

— The Price Is Right (@PriceIsRight) October 7, 2019
She's the cutest.
What's Next on Bold and the Beautiful
Katie is holding out for hope and holding on for life this week on #BoldandBeautiful. pic.twitter.com/z18jcikFQa

— Bold & The Beautiful (@BandB_CBS) October 6, 2019
Flo has decided to do what her mother asked her to do. She is going to give the Forresters and the Logans a gift, but she's not doing it the way her mother wants her to do it. She's not making a big production about it, doing it the way her mother wants her to do it, or handling it in a manner that makes her the center of attention. She's doing it her own way, which is that she is anonymously making the gift and she is not going to take any credit for it. But, we think that her gift is one of those things that will not remain anonymous. For one, her mother will find a way to make sure things get out and that things are going her own way. She will make it known to everyone even if her daughter doesn't want them to know. She needs Flo to get the credit she deserves for this one.
Secondly, we also think there is nothing but a mess going on with Katie. She has been hoping for a kidney for a long time, and now she is getting it. She is getting the kidney, she is going to make it a thing, and she is going to be okay with it. But, what happens when she cannot find out anything about her donor, who wishes to remain a secretive anonymous donor? We knew this would happen, and we know that she might not even take it if she knows where it is coming from.
Stay tuned for more The Bold and the Beautiful and be sure to check out TVOvermind daily for the latest The Bold and the Beautiful spoilers, news, and updates.