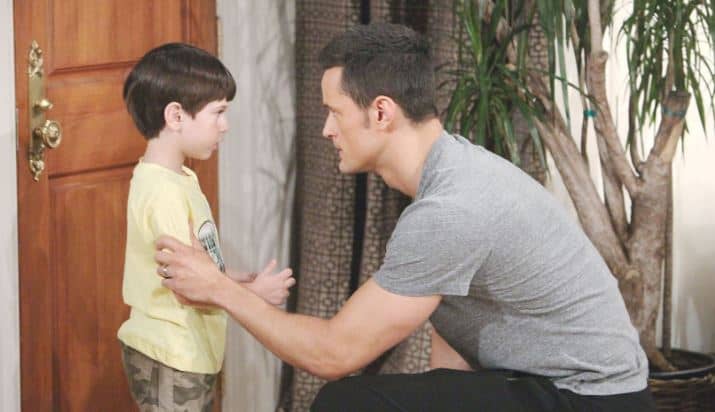 The Bold and the Beautiful fans are sure that Thomas is not going to let Hope get through the rest of this week without some problems. He's had a dark and twisted past, and he's showing some signs of that behavior again. He knows his wife isn't in this marriage for anything other than to give his son a mother, but he's annoyed that she's not just falling right into bed with him and treating this as anything other than a union that makes her a mother. She adores his son, and she's not willing to be married to Thomas for any other reason. But, she's also not willing to stop talking about their son now that they are on their fake honeymoon, and Thomas is not happy about it. He's not interested in Douglas right now. He's interested in himself and Hope, and she's driving him to the brink of insanity — and he might snap.
Meanwhile, we know that Liam is getting more and more caught up in the baby Phoebe drama. He knows that Steffy didn't ask more questions during the adoption because she didn't know she needed it. It was presented to her in a way that made it seem as if she was going to take this baby or someone else was going to take this baby, and she was not willing to lose out. Now she's got Liam poking around trying to learn more, and she's forced to admit that things might not be as they seem right now. He's not going to stop, either, and he's gotten some more information from someone he did not expect to get it from. Could this help him figure out what is going on and how that might work in his favor? We don't know, but that's all we can figure.
What's Happening on the Bold and the Beautiful
😳😳😳 #BoldandBeautiful pic.twitter.com/brSOdrp2Az

— Bold & The Beautiful (@BandB_CBS) July 26, 2019
Is anyone else terrified by him?
What's Next on the Bold and the Beautiful
It's the moment everyone has hoped for, and it is EPIC! 💥 You won't want to miss a minute this week on #BoldandBeautiful. pic.twitter.com/2scSJWW60y

— Bold & The Beautiful (@BandB_CBS) July 28, 2019
Flo is panicking, and it all has to do with the fact that she is learning that there is a lot wrong with Thomas. His past is dark, and she has no idea how to handle this situation. She knows that he is already threatening her life if she ever even thinks about sharing the secret that she has about Hope's baby. He knows Beth is alive, and he knows that his new wife will bail on him in a second if she finds out. He's not willing to go there, and Emma has already paid with her own life for this secret that the group is keeping. Now is a different story for different reasons. Flo is worried, and she's also terrified for her life if she comes out with this. Then there is the fact that Hope has put herself in danger, and she has no idea.
She was very honest with her husband. She's into this marriage thinking that it's just for the sake of his little boy, and she also knows that Thomas has feelings for her. But, she knows that he's a nice man and she feels that she can be comfortable with him. She is going to tell him that she just has so much love for Liam and that she wishes their marriage had lasted and that their baby had lived, and now she's in danger — and so is Liam. He won't lose her, but she has no idea just how dangerous he really is.
Stay tuned for more The Bold and the Beautiful and be sure to check out TVOvermind daily for the latest The Bold and the Beautiful spoilers, news, and updates.