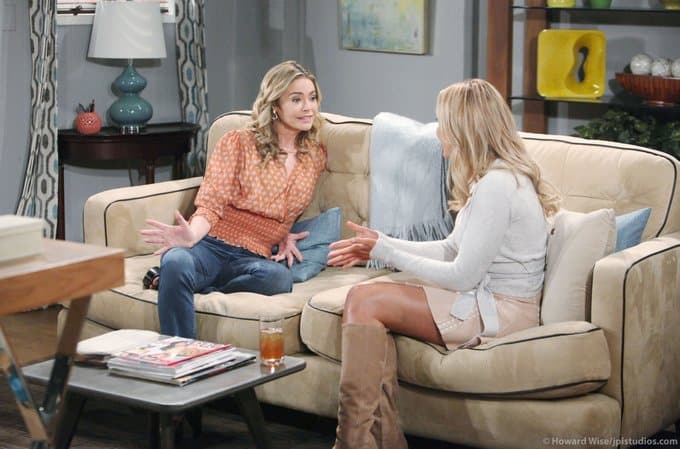 Bold and the Beautiful fans are not sure how to focus on anything other than what is going on with Thomas and Hope right now. She's mad that he upset his son, but he only upset his son because he's allegedly moving on from Hope and dating someone else. We know that Douglas is not right to be so rude to Zoe, but we also know that Thomas is not right to use Zoe as a way to get Hope to be jealous. It's an ugly situation all the way through, and neither of them are helping. Poor Zoe has developed actual feelings for Thomas, even knowing he's a bad guy, and she's trying too hard to befriend Douglas and bond with the little boy who belongs to the man she's falling for. It's not working because Douglas only wants to be with Hope. This is a mess through and through.
Sally is going through the darkest place in her life right now, and Wyatt is feeling worse than ever. Now that Katie has shared with him the diagnosis that Sally's been given, he's having to face the fact that he should be there for her. She's avoiding treatment for her issues because she's in such a bad place and she's not feeling as if she has any reason to even bother. Most of that is because Wyatt left her for someone else, and he knows this is bad. Katie is trying so hard to convince her to be the fighter that she knows she is, but we cannot say this is going to work at all. There's so much here that isn't good news, and that's something we don't have much else to say. We know it's a mess, but it's something he has to deal with right now.
What's Happening on Bold and the Beautiful
We're rooting for you, #Bridge. 💙 #BoldandBeautiful pic.twitter.com/sdfCqQlB5f

— Bold & The Beautiful (@BandB_CBS) February 13, 2020
Eh. We aren't really, though.
What's Next on Bold and the Beautiful
Sally receives her diagnosis this week on #BoldandBeautiful. RT if you're rooting for her to win this fight. 💙 pic.twitter.com/goMWozFx2D

— Bold & The Beautiful (@BandB_CBS) February 9, 2020
It's going to be an awkward day for both Hope and Zoe when they are together and they hear a very uncomfortable conversation. We know that Liam is not very happy about things that are going on right now, and he's decided to make sure that Thomas knows that he is not happy and that he is not all right with all that there is. He's going to spend the day throwing accusations at Thomas left and right, and Hope and Zoe are going to overhear him doing this. This is not going to end well for him, but it's also going to put these two women in a very seriously uncomfortable situation. And it might just make Hope angrier than she already is with both of them.
Meanwhile, Flo is a woman who will do anything and everything she can to keep the man she loves. She wants to keep Wyatt in her life, so she's going to pretend she is all right with him thinking nonstop about the other women he was recently engaged to. Katie has shared with him what happened with Sally when she saw her doctor, and now he knows that she's not all right. Flo will comfort him as he grieves, and he will also be very hardpressed to find any happiness right now. He's feeling beyond guilty, he's having a problem processing all of this, and he's struggling in more ways than one. We get it, and we aren't sure he can overcome this even with her by his side.
Stay tuned for more The Bold and the Beautiful and be sure to check out TVOvermind daily for the latest The Bold and the Beautiful spoilers, news, and updates.