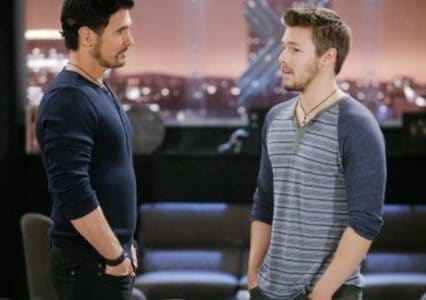 The Bold and the Beautiful fans know that things are getting uglier and uglier between Liam and Bill, especially now that Bill has managed to get his life back in order enough to take his position back from his son within the company. He's back in the part of his life that makes him happiest, but we suspect there is more to his life than we expect. He's got to make some changes in his own life, but he's got to start with his son. Is there a chance that he might let his son come back to the company, too?
We hear that Bill is going to offer his son a chance to be where he wants to be within the company and it might be something of a surprise to Liam. He wasn't expecting his father to want to keep him in the company when he took back over after all they went through and said to one another, but things are certainly changing a bit. There is a lot to say about this, and one of those things is our wondering. Will this be an offer that's meant to heal their family or one that Bill came up with for a reason?
Is there something he can gain by offering all this to his son? We don't know, but we do know someone might need to do something to make sure this works in his favor. We're not sure how it will all go down, but it's going to be good.