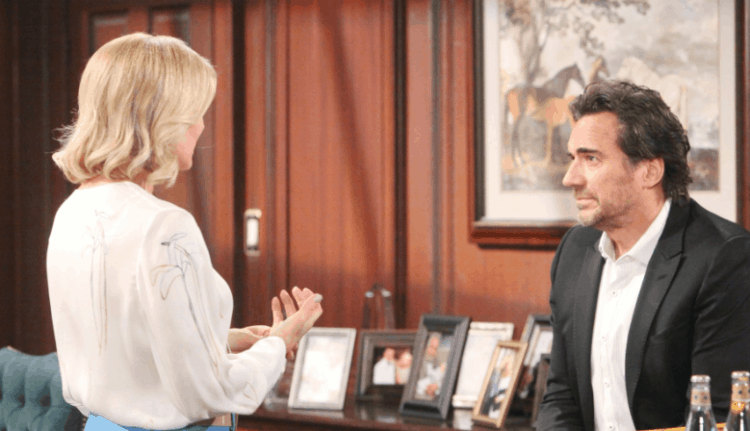 The Bold and the Beautiful fans know that Wyatt and Liam have not seen the same view of things in their lives since they were much younger, but this is not a time in their relationship where things are still like that. They are closer than they've ever been, and Wyatt knows that he must call his brother in Paris and interrupt his time with his daughter and the baby that Steffy adopted. He knows that Liam needs to know that his own brother-in-law is making moves on his wife, and that he has professed his love to her in hopes that she will leave Liam and make a future with him. He has a little boy, so she can be a mother. He loves her, the baby loves her, and she could be very happy there. The problem is that they all seem to know that this is an option, and Wyatt needs his brother to know.
We know that Liam is not happy, and we knew he would not be. Now he is faced with a decision. Does he stay in Paris with the babies he loves so much, or does he leave them again without their father so that he can go back home and fight for a wife who has told him more than once she is done and wants to move on? Does he make that decision? And now that Ridge and Brooke are fighting over this again, when will they find the time to get past their kids' issues and work on their own issues so they can fix their marriage? We aren't sure they can, because their kids always seem to find a way to get them to mess up their own marriage. None of them are old enough to be married.
What's Happening on the Bold and the Beautiful
💫 @JacquelineMWood looking like a star as always. 💫 Today she discussed her big win and more on @TheTalkCBS' #DaytimeEmmys After Party. Check it out here: https://t.co/ARF045Q6s5 pic.twitter.com/CYo56dRaFL

— Bold & The Beautiful (@BandB_CBS) May 6, 2019
She's a winner, and a good one, too.
What's Next on the Bold and the Beautiful
A bold move ignites an epic battle. 👊 See it all this week on #BoldandBeautiful! pic.twitter.com/RR789Nd7xr

— Bold & The Beautiful (@BandB_CBS) May 4, 2019
Sally and Wyatt have ended their relationship, and we are all crushed. Few things are more upsetting to fans than to see this couple not work out, but the only person who is really happy about it is Quinn. She loves it. She is so happy to see that her son has done precisely what she wanted him to do after she managed to plant misinformation in his mind. That led him to make some hurtful comments and ugly accusations, and things have spiraled from there. Sally is horrified, and she's about to let Thomas know that this is his fault for wanting her help with his plan to take Hope from Liam. There is nothing she wants right now than to make him pay for the role he had in what just happened to her and Wyatt.
Meanwhile, Hope has opened up to her new best friend, who is also her brand-new aunt by blood. She is Flo's bestie even though Flo is not happy about this. She will be very, very uncomfortable hearing Hope tell her what is going on with her marriage to Liam, and what is going on with Thomas, and how all the things are playing out knowing that this is all because she took that baby and sold her to Steffy. She cannot take this, but she's worried that the people in her life will never forgive her if she shares this information. Is there anything that they can do right now?
Stay tuned for more The Bold and the Beautiful and be sure to check out TVOvermind daily for the latest The Bold and the Beautiful spoilers, news, and updates.
Tell us what's wrong with this post? How could we improve it? :)
Let us improve this post!