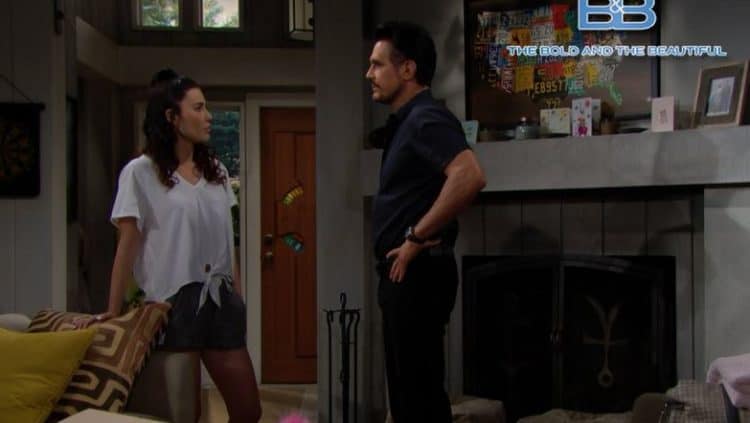 The Bold and the Beautiful fans are so excited to see more. This week has been nothing short of totally explosive in so many ways. We watched as Hope dropped what can only be described as the biggest ever bomb on Liam. He didn't see this coming. Sure, he slept with Hope once before he delayed and then cancelled their wedding, but he certainly did not think that he would end up with a pregnancy announcement. This is shocking to him, and he's yet to tell Steffy. In fact, he has to absorb this news himself for a moment. Steffy, on the other hand, was very happy to tell her father that she's marrying Liam. Bill gave her the go ahead and told her to do what she wanted to do, that he would not put her mother in jail if she made the decision to marry Liam, and Ridge was so excited to see that this might just be the answer to his prayers.
And then we saw Ridge stunned in a way he never thought possible. His wife looked him right in the eyes and told him a piece of news that shook him right to the core. This news will change their lives, their family, and their future forever. He was not prepared for his, and he certainly did not think that he would hear this coming at all. However, it's reality now, and he has to find a way to handle it, deal with it, and figure out what to do about it as a result. It's not going to be something we can handle without much more fanfare, however. It will lead to a big disagreement, and we saw that coming. Now they don't know what to do since they are — once again — on completely different pages about this situation and how to handle it.
What's Happening on the Bold and the Beautiful
https://twitter.com/HollyMila/status/1014927825097445376?ref_src=twsrc%5Etfw
Fans, where do you stand with your feelings on Hope and Liam and Steffy? We thought everyone was pretty much on board with the entire Steffy and Liam getting back together, getting married, having their little family situation, but it turns out that's not entirely the case. There are fans still excited about the idea of seeing Hope and Liam together, and we can't stop our shock from taking over here. We need to know how you all feel, and we need to know how you feel about some of the most recent tweets to go out by fans.
What's Next on the Bold and the Beautiful
TODAY: Steffy shares her joy with Quinn and Eric that she and Liam are finally putting their family back together. #BoldandBeautiful pic.twitter.com/a37Es0GbrK

— Bold & The Beautiful (@BandB_CBS) July 5, 2018
We think that there will certainly be more marital issues for Ridge and Brooke with their daughters in this situation, but this is not going to be something we see today. What we will see today is this: Steffy is going to tell Liam she's ready to get married. She's excited, she's happy that they are going to get married again for the fourth time. She's happy that she's finally getting all she ever wanted. She's happy that things worked out for her in a way that she can use to her advantage. She's happy that things are going her way, and she's convinced that nothing bad will happen at this point. She's over the moon with excitement, and there is nothing anyone can do to take that from her — and she has no idea Hope is pregnant and that Liam is aware of it.
And we will also see that Brooke is going to tell her daughter to do anything and everything she can to take Liam from Steffy. She feels that because Hope is pregnant, she's the one who deserves to have a family of her own with Liam. She feels for some reason that Steffy and her baby just aren't worthy of being a family with Liam, and that he should leave them and be with her daughter. Whatever is going on in her mind is really the most special situation, and she's so wrong about so many things. However, that's not about to stop her.
Stay tuned for more The Bold and the Beautiful and be sure to check out TVOvermind daily for the latest The Bold and the Beautiful spoilers, news, and updates.