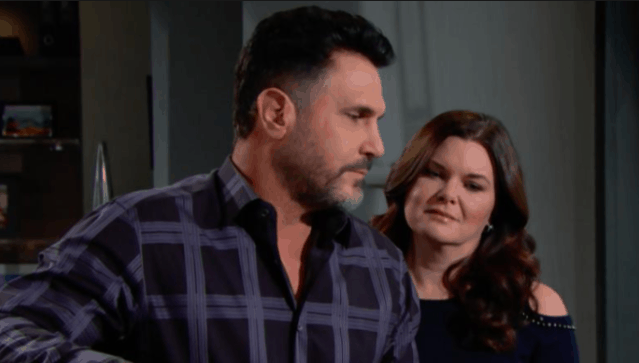 The Bold and the Beautiful is a dramatic show with a lot to offer. It's the baby of the soaps, and it's one that hasn't been around for a very long time in comparison. Let's take it to this level; there are two people on this show who have been working on the set as characters we love since the day the show aired, which was 35 years ago. That's how much younger this show is than the other shows on the air, where there are no more original actors or actresses playing roles they had when the shows aired. There is nothing we love more than to see these people work on this set, but which of the men who come into this area of work are the best of the best? Some actors simply bring so much to the table around here, they make our list of best of the best.
Don Diamont
He may be relatively 'new' in comparison to the others on the show, but we love him regardless. He's a man who has been around for a decade, but he's managed to create a character we cannot see anyone else replace. He's done such a stellar job as Bill that we believe he is Bill. We have a feeling we would not like him in real life because we would assume he is just like Bill, even though he's probably a perfectly lovely person. Either way, though, it really does speak to his personal skill to have that kind of compliment given to him. It's hard to come onto an established show and bring about a new character who is not familiar with anyone. He did just that. He came onto this show, he made his way into this family that was already there with no real ties to him, and he's made himself a fixture. He's amazing, we love him, and we cannot handle how good he's become in this role. He's one of our favorites, and replacing him is nothing that anyone can do.
John McCook
You didn't think we'd get through a list like this one and leave off the man who started it all? This show was basically written about his own life and the people he brought into the world as a father, and he's been here since day one. He might not have the big stories anymore. He might not have the most lines. We might not even see him all the time, but he is the B&B. He is the reason for this. If he didn't have his son, we wouldn't have this show. He's a man who brings sheer talent, skill, and obvious professionalism to the show, and he even does it while trying to look and act a lot older than he really is. In fact, he was only a few years older than the man who originally played Ridge, his son on the show. They've been making him up into an old man for many years, and his skill has allowed us to believe he really is an old man for all those years. It's amazing to us what he's been able to bring to the table and leave behind for us. He's spectacular, and we love him.
Scott Clifton
This one might come as a surprise to many, but we really love him in this role because he makes us crazy. He has brought so much skill and talent to this role that it's impossible not to recognize his sheer talent. He's taken a young man who is torn between two women all the time, and he's made him into a man who is just not all that likable. We almost pity this character because he cannot seem to make a decision or get his life together, and he never seems to know how to emit any power or any real decision making in anything he does. And that's not easy to do. Most actors would come in and use their ego at having two women all the time, but he has toned that down and made it impossible to see that. He actually seems genuinely confused, torn, and unsure. We don't even like Liam all that much, and that's because the man who plays him is genius.
Tell us what's wrong with this post? How could we improve it? :)
Let us improve this post!