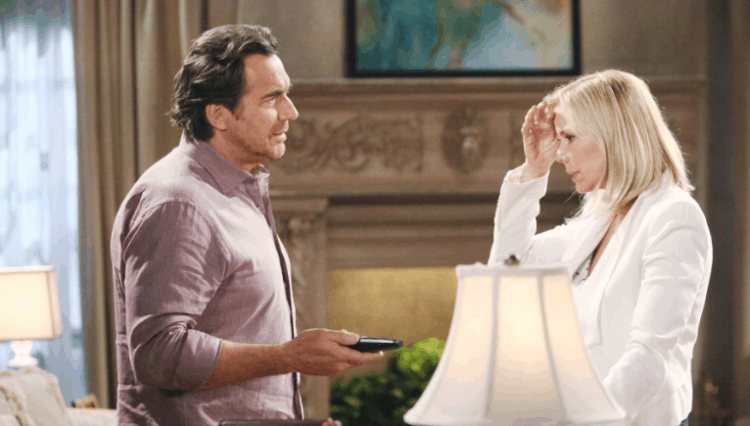 The Bold and the Beautiful fans know that things with Thomas are precarious. He's already been confronted about a possible involvement in the death of Emma, he's working hard to get what he wants from Hope, and he's not making her mother very happy. He has a friend in town now, and his friend will do anything for him. He will help Thomas get what he wants, which is Hope. She might not be open to being with him right now, but she can be made to change her mind if the circumstances are just right. She's emotional and unhappy, and he can use that to his advantage when he has the help of his friend Vincent. We don't agree with it, but we do think that he is not someone who is going to stop until he gets what he wants from this woman, which is a ring and a marriage promise.
Meanwhile, Sally and Wyatt are officially over. We don't know why they weren't officially over before since he is sleeping with Flo and that is not something you do when you are with another woman. But, he is calling it quits for good, and Sally did tell him that she feels this is a decision he will regret. He disagrees with her because she was dishonest with him. But, she's right. She kept something from him, but what she kept was someone else's secret. What Flo is keeping from him is that she stole his brother's baby, let them think the baby was dead, and sold it to Steffy while she has no idea she is now raising the half-sister of her own daughter. We think Sally wins the argument here, and it won't be long until she knows it's fact. They will all learn the truth before much longer.
What's Happening on the Bold and the Beautiful
Just because we miss #WallyWednesday 💔 Which couple is your favorite? Leave a 😍 for Wyatt and Sally and 😘 for Wyatt and Flo. #BoldandBeautiful pic.twitter.com/Sj5klV1zG9

— Bold & The Beautiful (@BandB_CBS) June 26, 2019
You know the answer to this. It's obviously Sally and Wyatt. It's time for them to get back together.
What's Next on the Bold and the Beautiful
Surrounded by suspicion, Thomas is totally off the rails. Make sure to tune into #BoldandBeautiful this week! pic.twitter.com/qQqgy6w0Hq

— Bold & The Beautiful (@BandB_CBS) June 23, 2019
Thomas is thinking that his life is going his way right now, but he is about to find out that it is not. He knows the truth about Hope, and he hopes that she never finds out that his sister has her baby. He doesn't want either of them to ever find out. It would be awful for his family and their families, and so many other things. But, she's breaking down. She's still more than a little bit distraught and heartbroken and crushed over the loss of her daughter, and he will hear her call Phoebe Beth. He will panic. Does she know? Does she know that he knows? Does he still think that he is doing the right thing? There is nothing he can figure out that will make everyone happy in their lives, but there is something that will make a difference. He will probably reconsider his approach.
Wyatt is also in the middle of something. He is going to make a decision today that might change the course of his future. This might be the kind of decision that changes the world, the way it works, and so much more. But, will it make sure that someone finds out the truth? If this decision has anything to do with Flo and his future and their future together, will she break down from the guilt and the weight of the secret she's been keeping? We don't know if she will, but we hope she does. And we hope he leaves her behind without a second thought.
Stay tuned for more The Bold and the Beautiful and be sure to check out TVOvermind daily for the latest The Bold and the Beautiful spoilers, news, and updates.