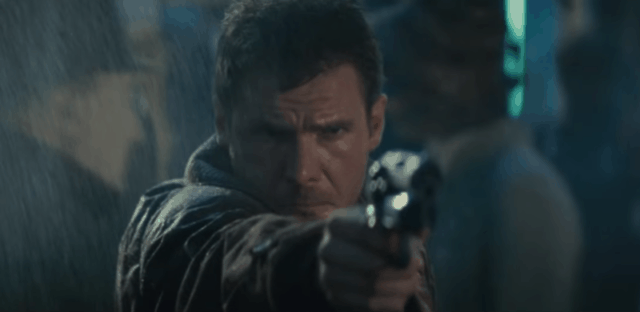 The gun from the movie Blade Runner is a famous collector's item. In fact a number of replicas have been made after it that Blade Runner enthusiasts jump at the chance to buy. Rick Deckard (Harrison Ford) is armed with a non-designated, unnamed blaster throughout the film. The prop was constructed from parts of a Steyr Mannlicher .222 Model SL and a Charter Arms Bulldog revolver. Side covers were added to cover the Bulldog's cylinder, and different bolt heads and screw heads were used to offer an illusion of knobs and controls.
The gun was also equipped with at least 6 LED lights, though not all of them worked throughout the production. Several other characters are seen handling Deckard's gun at times, notably Rachael (Sean Young). Blade Runner Holden (Morgan Paull) is seen very briefly drawing a similar blaster at the beginning of the film. LAPD officers have black resin casts of the hero prop in their holsters, but they are just barely seen.
So how would you like to have one of these bad boys in a water gun? According to Kotaku:
Blade Runner's blaster already has a number of expensive replicas. This summer, it's getting a water gun.Japanese gun model maker Ryosuke Takagi previously did his version of Deckard's PKD Blaster from Blade Runner (see description above). As these Zospec photos show, it's an impressive piece, costing around $600–or more.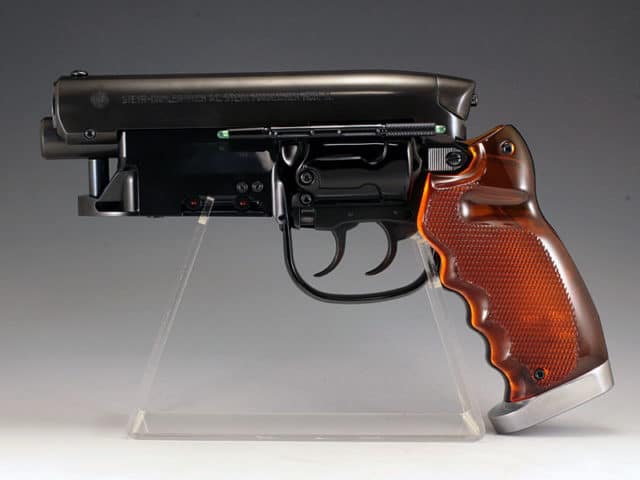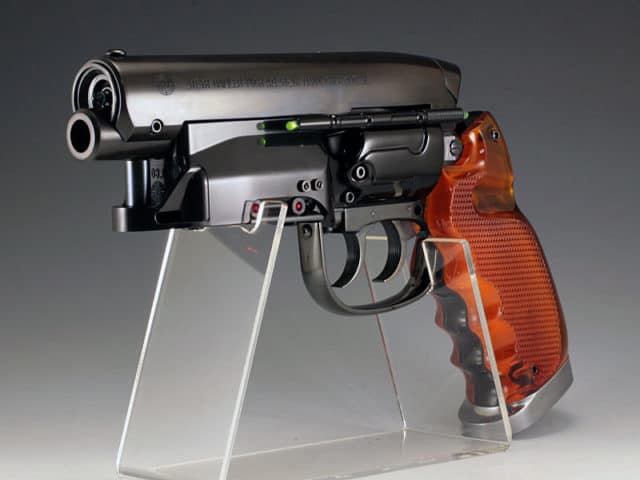 That replica is the basis of an upcoming water gun, which is slated for a June release. You can see a prototype below:
ã€å±•ç¤ºä¼šæƒ…å ±ã€'ã'¢ãƒ«ã'´èˆŽã•ã'"は、ã'の高木式ブラã'¹ã'¿ãƒ¼ã'¬ãƒ³ã''まさかの水é‰"ç ²åŒ–ï¼ï¼Ÿãã®åã''爆水拳銃ã€'ã"ã'Œã§ã"の夏は未来型ã'¦ã'©ãƒ¼ã'¿ãƒ¼ãƒãƒˆãƒ«ãŒæ¥½ã—ã'ãã†ã§ã™ã€' pic.twitter.com/SzeB36nxAO

— 豆魚雷 (@mamegyorai_jp) April 18, 2017
Dubbed the Takagi Type M2019 WaterBlaster, it will be far more affordable and is slated to cost 1,296 yen (US$11.90)