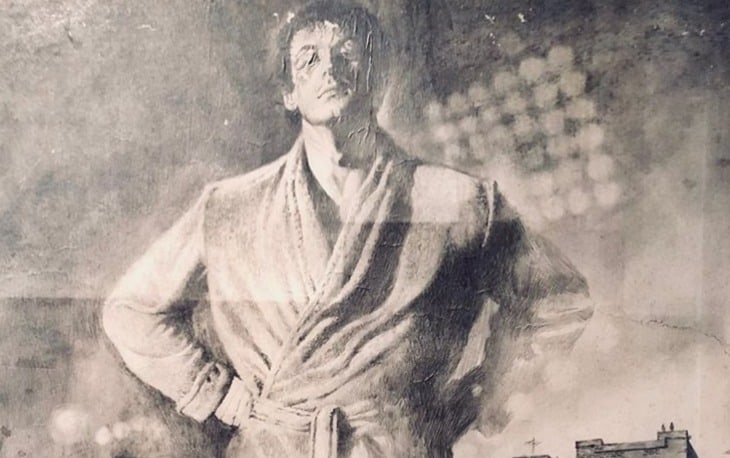 This is a rarity to see this kind of unearthed footage from Rocky that shows Sylvester Stallone and Carl Weathers working on their choreography. Looking at this you get a better idea of what you don't really see in the movie thanks to the speed and the camera angles that shift now and again in order to kind of mask what's really going on. Carl Weathers was involved in boxing at a young age and was even in the NFL at one point with the Raiders, so he's no stranger to being a top-notch athlete. Stallone on the other hand, while being in awesome shape and obviously having come a long way since his humble beginnings, had to work hard to keep up with the much more athletic Weathers.
It's kind of odd to see this get unearthed after so long but it's very cool as well, since back in the day, meaning the 70's, there really wasn't any demand for this kind of thing, at least not that anyone ever heard of or relayed as they do now. This is the kind of footage you see on the Extras menu of a DVD nowadays, though if someone bothered to come out with another Rocky collection it's likely that you might see this kind of footage in there. Rocky has for a long time been an inspiration to so many people that it hasn't mattered how bad the following sequels have been after the second one, it's more or less the story line of a guy that came from nothing finally rising to the top and then easing back down to realize what's really important.
Let's face it, Rocky was the best of the bunch since just meeting the characters and getting to know them through the movie was an absolute delight. Rocky was the down on his luck kind of bum that wanted something better but didn't know how to get it or just didn't want to try. When his number was picked by Apollo Creed, the champion, he was suddenly worth training, which he took a lot of offense to despite the fact that he still took Mick up on his offer. Apollo was a jerk and a showboat but he wasn't the bad guy really. He wanted a solid challenge and Rocky finally gave it to him. No matter how hard Apollo hit him, Rocky wouldn't stay down. Unfortunately after the sequel everything else felt so watered down that even the last film, Rocky Balboa, didn't really set things as right as they could have been. The continuation of the story was necessary without a doubt, but there were so many working elements in all of the sequels past part two that they got kind of confusing after a while.
One thing that can be said about the transition from the first to the third movie however is that Apollo Creed was the enemy, not the bad guy, but the enemy to be beaten. In the second film there was a lot more respect earned by the end, and by the third they were becoming friends, no matter how unlikely it seemed. On the set though, thanks to this footage, it was obvious that they were pretty tight throughout the making of the film.
So cool: Unearthed footage of Sylvester Stallone/Carl Weathers Choreography for Rocky in 1976 pic.twitter.com/depECkYTak

— Meredith Frost (@MeredithFrost) April 7, 2018