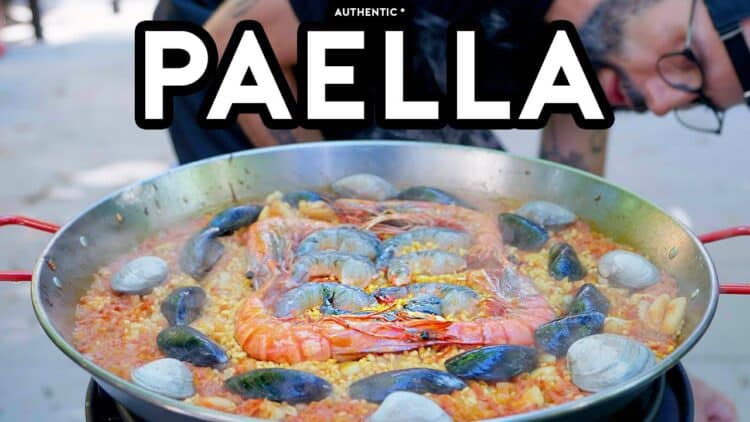 It's not every chef that's going to own up to the idea that they aren't comfortable making a dish. Well, he stated that he used to be hesitant to make paella, but decided it was time to give it a try. One could say that this was one of the many themes that were prominent in Parks and Rec while the show was still up and running since a lot of the characters had plenty of issues that they had to face throughout the show. None of them had more issues than Jerry, or Gary, or Larry, or Terry, or whatever the guy's name was that many saw as the whipping post in the office. And yet, with all the stuff that was going on in his life, he was still an upbeat and pleasant individual with an amazing family and the type of life that a lot of people could easily been envious of if they'd taken the time to realize who he was and what he was all about.
Paella requires a bit of attention and love.
For instance, Jerry was a great cook, as the paella, he made in one episode indicated. As a dish, paella is something that can easily intimidate a person since the truth is that there is a little bit to making it and it's also very easy to screw up if one isn't paying attention to the meal as it cooks. Meals that have this many parts can look like expert puzzles to a lot of individuals, especially those who don't do much more than pop a lid and turn on the microwave. But in the long run, cooking isn't hard if you're willing to pay attention and put some love into it. With a paella, however, it can become kind of tough if you're willing to watch and pay attention to the dish, since burning it can be kind of easy, as Babish shows on his outdoor cooker. Hey, everyone makes mistakes sometimes.
Is paella a seafood dish?
Surprisingly, paella is NOT traditionally a seafood dish since there are many ways to make this delightful-looking dish and a lot of them don't use seafood of any type but opt for chicken, lamb, rabbit, and other ingredients. You could call paella a rather versatile dish since it can accommodate a lot of different styles and has plenty of different recipes. But like all recipes, there is a core set of ingredients that one will need to know about to get this right. It's also easy to assume that a lot of people will make their paella to taste and will add in whatever they feel is necessary since just from the look of this dish it's not tough to think that a knowledgeable cook could toss in something that they might figure would work. The great thing about such a versatile dish is that it can allow a person to add a lot of personality to affect the result and create something that's bound to satisfy a lot of different tastes. It might look a little busy and kind of messy in some ways, but paella is one of those dishes that one can't help but look at and say 'yum'.
Poor Jerry/Terry/Larry/Gary.
As for the guy that made it, well, Jerry/Terry/Larry/Gary isn't exactly the most attractive person in the world but he didn't really deserve the grief he was given on the show. The guy was a klutz outside of his home though, that much was kind of obvious. But the reason for this wasn't really made clear since once he was in his own element he was about as perfect as one could be, and he had an extremely attractive wife who was willing to back him up at any given moment. In other words, Jerry didn't look like someone that anyone would assume was blessed with such a rich and flavorful life, but he ended up being one of the most successful individuals on the show. Parks and Rec kind of went to show that flash and pomp did manage to make people stand out and get the attention they desired, but it took something extra to make sure that people were interested in more than just the flash.
Seriously, make yourself some paella just once.
It's worth the experience and you'll find that you've learned something that might benefit you down the line. It might not be the healthiest dish depending on what goes into it, but it's definitely going to be one of the tastiest if you get everything right. Plus, you can play around with the recipe if you want and come up with something that's all your own, kind of, sort of, but not really. In any case, just have fun with it and enjoy the experience.