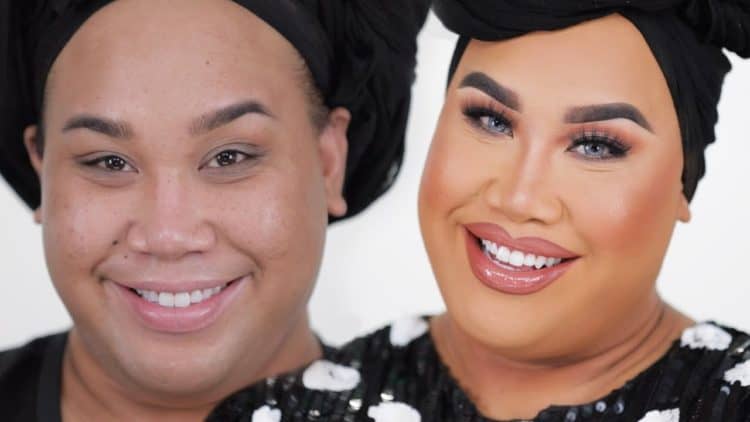 The makeup industry is one place that women previously dominated, but now young men are taking over. It is a silent industry that does not seem to carry lucrative paychecks, but in reality, it is a goldmine. Many people, like Patrick Starrr, have a reasonable sum of money, courtesy of the makeup industry. Patrick is a famous photographer and makeup artist who we mainly know of through his YouTube channel. His channel now has millions of subscribers who are always waiting to catch up on the next display of talent. Get to know more about the freelance makeup artist by checking these facts about him.
1. He studied classical piano while still young
Patrick says in People that he studied classical piano when he was young. Using the knowledge on the piano that he had, he started teaching others how to play the instrument when he was a teenager. Patrick loved playing the piano and saw it as an auditory art. When his friends went for music competitions, he accompanied them as their pianist.
2. Photography sparked his interest in makeup
Patrick started doing photography while in high school. He shot videos for his friends as they performed in school plays. After recording the videos on camera, Patrick had to edit them using a computer. Patrick then realized that he could make multiple edits such as selecting makeup in the computer to add shape and blush while eliminating blemish. That revelation sparked his passion for makeup, and Patrick went ahead to edit many photos and videos. He is now a professional makeup artist.
3. He loves being busy
Patrick describes himself as someone who must be doing something at all times. He grew up in a family of three, with him being the eldest. Their parents were strict and could always discipline them when they misbehave, but Patrick was never a victim. He says that he was busy most of the time and could not find time to misbehave. While in school, Patrick could play the piano or golf and tennis with his dad. Patrick also would keep himself preoccupied with going swimming and later on get home to practice Photoshop.
4. His mom wanted him to become a nurse
Patrick tried to work hard and transform his work in makeup into a successful business. However, his mum wanted him to become a nurse. Therefore when his mum told him to get a steady job as a nurse, Patrick just agreed. He could later respond to her by saying that his dad was also an entrepreneur and wanted to be like him. Patrick was torn between chasing his dream and following what his mother advice. With his industrious nature, he studied nursing on a part-time basis as he continued pursuing his dream.
5. He gathered knowledge on makeup while working at MAC cosmetics
Patrick worked at MAC cosmetics, and that became the place where he got most knowledge about makeup. The experience that he got later became useful in his life since it inspired him to create his YouTube channel. On the platform, Patrick mainly uploaded beauty and lifestyle videos and makeup tutorials, which attracted many viewers.
6. He has worked with various superstars
Patrick is famous for his outstanding talent in the makeup industry. Many people are pleased with his style of doing it, leading to many stars going to get a taste of his excellent work. Such celebrities include Kim Kardashian, Maddie Ziegler, Ashley Tisdale, and many others. Working with these famous persons only helped to advertise his business resulting in more clients.
7. He understands his native language but cannot communicate well
Patrick was born to a Filipino family who migrated to the US. According to Answers Africa, the parents of Patrick raised all the children in the catholic faith. With Filipino origin, Patrick understands their native language but cannot communicate fluently. He grew up hearing his parents speak the language, but with the community around, he never found other people with whom he could communicate in the native language.
8. He was once accused of stealing a style
Patrick's journey in makeup has not been a walk in the park. According to Daily Dot, Patrick was once accused of stealing a style from another influencer. The black woman was new to the industry and blamed Patrick for taking her unique style. The woman said that she felt unwelcomed to the makeup industry since she was a black woman. Many fans of the woman went ahead to fight for her rights, but Patrick denied the claims. Patrick says that it might be that it was just as a coincidence. He said that there are many styles that one can come up with while trying new things in the makeup industry.
9. He has a net worth of $300,000
Through his social platforms, Patrick is currently worth $300,000. The social influencer has millions of followers on his social media platforms. He earns mainly using Instagram and YouTube, where he has 4 million followers and 4.2 million subscribers, respectively. He works for various cosmetic companies endorsing their products, and these companies pay depending on the number of viewers. With his ambition, Patrick's income is projected to increase with time.
10. He is gay
Patrick is gay and has never tried to refute his sexuality. He says in Refinery that he is gay and feels like the minority of the minorities. Many fans had been speculating this, and they were right. Being a man and doing all the things that women do is not an easy thing. He is ready to fight for the rights of the LBGT community and other minorities. In one of the comments, people were complimenting him like a woman, and Patrick replied that he needed a husband. He says that he always does things that a woman would do, and hence, a man will be his perfect match.
Tell us what's wrong with this post? How could we improve it? :)
Let us improve this post!