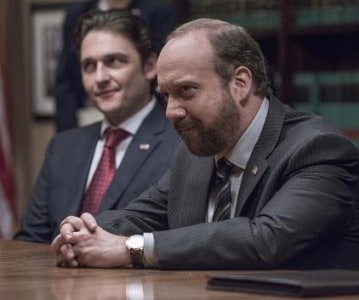 In the fourth episode review of Billions, I wrote that Bobby Axlerod could smell his own blood in the water, and was getting out of the business to save him from what was coming. I believed that was supported by his apparent desire to dump all of Axe Capital's stocks, and him essentially abandoning the firm. I thought it was an interesting (if a little rushed) revelation of what goes on in Bobby Axlerod's head.
The thing that I was both right, and wrong. I assumed that his dumping of the stocks was self-preservation; a way of him clearing the deck of all dangers for he and his family going forward. I assumed that we had a window into his psyche in that dump, but I thought it was to a gentler man beneath.
But what we come to discover is that Axlerod dumped those stocks because he was making a play. He cheated, again, and covered it up under the guise of a mid-life crisis. Sure, that midlife crisis has real roots and strong legs, but ultimately, it was still a ruse. Axe gets to keep his money, and his company, because he loves it at the office. Axe may have thought about getting on his boat, but he gave up guaranteed freedom and millions of dollars so that he could continue to do what he loves.
* * * *
I've been thinking about this idea of good guys going bad.
Chuck has always been presented to the audience as a man who only takes cases that guarantee a victory. He doesn't step outside the lines, he doesn't push boundaries; he takes on criminals that he can always put behind bars, one way or another. Chuck stays in his lane. But that all changes when he gets the chance to take on Bobby Axlerod.
There has been a clear descent into darkness by Chuck. He's gotten more and more obsessed with dragging Axlerod to hell by any means necessary. There is no clearer indication of that than when he goes to Iowa and actively lies to the farmer, who obviously hasn't committed any crime and was only duped by someone who saved his daughter's life. Chuck acts upset, but here's the deal; Chuck, in this instance, can only pretend to be upset, as he can easily protect this man from any sort of criminal prosecution, but chooses not to.
It's also interesting to note that Chuck has to go to a BDSM club that night, in order for him to unwind. The only time we've seen home go through with that sort of behavior was in the pilot after Skip killed himself, and after dropping the hammer unnecessarily on the farmer. His desire to be humiliated, to lose control over what happens to him, could lead someone to draw the conclusion that he likes to be punished for his actions.
* * * *
Bryan Connerty is going to break free of Chuck, one way or another.
Too much ambition, too naked with his emotions; he can't hide his relationship with Terri, nor his attraction to Kate, nor his unhappiness with the way Chuck does things. He argues too much, pushes back too hard. I don't think he'll switch sides and join Bobby Axlerod, but I do think that at some point, he and Chuck are going to be on opposite sides of the table, and Bryan'll have his claws deep in Chuck's chair.
I don't know if it'll be this season, or the next, or the last; but I do believe that they are going to clash. One way or another.