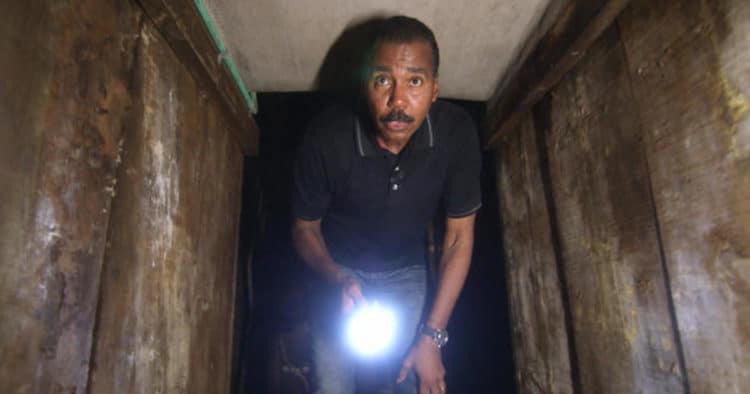 Bill Whitaker has been a steady presence in the journalism world for well over 30 years. Many people have probably grown up seeing him on TV. At this point in his career, it's impossible to count all of the times he's delivered breaking news and shared important moments with the world. His calming presence and his straight to the point style has made him a trusted figure in the news industry. These days, however, Bill is giving something new a try. He has recently been announced as one of the guest hosts of Jeopardy, and viewers are excited to see him step on the legendary game show state. Other guest hosts for the show include Mayim Bialik and Katie Couric. Keep reading for 10 things you didn't know about Bill Whitaker.
1. He Is A Philadelphia Native
Philadelphia is one of the most historic cities in the United States, and it's also an important part of Bill Whitaker's personal history. He was born and raised in the city and it will always hold a special place in his heart. This days, however, Bill calls New York City home.
2. He Has Two Honorary Doctorate Degrees
Bill's contributions to the news world certainly haven't gone unnoticed. He has been given two honorary doctorate degrees over the course of his career, one from his alma mater, Hobart and William Smith Colleges in New York and another from Knox College in Illinois.
3. He Is An Emmy Winner
To say that Bill Whitaker's career has been outstanding would be an under statement. The amount of things he's accomplished have earned him a spot as one of the most influential journalists of his generation and he has the awards to prove it. He has won two Emmy Awards and been nominated for two others.
4. He Studied History
On top of being talented, Bill is also very well educated. Bill has a bachelor's degree in American history from Hobart and William Smith Colleges. He then went on to Boston University where he earned a degree in African American studies. Bill also studied journalism at the University of California, Berkeley.
5. He Has Been Working For CBS For Over 60 Years
These days, most people can't imagine staying at the same company for decades on end, but for Bill that's just been par for the course. According to his LinkedIn profile, he has been working for CBS since 1985 which means he's spent 36 years with the popular network. In fact, working for CBS is the only work experience he has listed on his profile.
6. He Has Done Some Acting
When most people think of Bill's on screen experience, news is the first thing that comes to mind. What many people don't realize is that he's also done some acting. He made his first and only acting appearance in 1961 in a TV series called The Charlie Drake Show.
7. He Is A Husband And Father
Bill's career isn't the only thing that he's devoted lots of time and attention to. He is also a dedicated family man. He and his wife, Terry, have two children together: a son and a daughter. Although Bill's work took up a lot of his time, he did his best to always be around for special events for his family. Although he has spent the majority of his life working in front of cameras, he has always been a fairly private person. As a result, there isn't much information about his wife and children online.
8. He Has Traveled All Around The World
Bill's job has given him lots of awesome opportunities, but one of the coolest is the fact that's allowed him to travel all over the world. Bill has gotten to visit countries in Asia, Africa, and Europe. He even spent four years in Japan as a CBS News Tokyo correspondent.
9. He Isn't Really Into Social Media
Lots of journalists have become social media influencers in their own right. Even outside of work, they love keeping people in the loop and countless people look forward to their posts. That isn't really Bill's style, however. Twitter is the only place where he appears to have a verified account and he doesn't tweet very often. He currently has just over 7,600 followers.
10. He Loves Art
As someone who has gotten to experience different parts of the world, Bill has developed an appreciation for all sorts of different kinds of art. In 2017, the New York Times did a piece on Bill's home and mentioned the various works of art that he had on display.
Tell us what's wrong with this post? How could we improve it? :)
Let us improve this post!