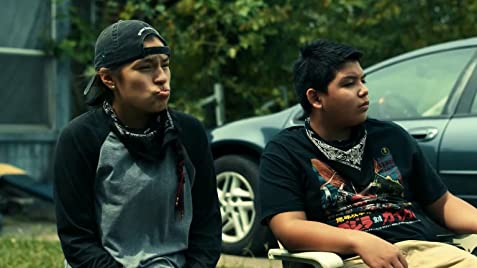 D'Pharaoh Woon-A-Tai is a name you might want to get used to hearing. The up and coming young actor hasn't been in the industry for long, but he's already making his mark. He has been getting a lot of attention for his role in the new Hulu series Reservation Dogs in which he plays a character named Bear. The series is his biggest TV role yet, and it's also given him the opportunity to honor his culture in a major way. There's a very good chance that the show will open more opportunities for D'Pharaoh, and I feel confident that we'll see more of her in the future. Here are 10 things you didn't know about D'Pharaoh Woon-A-Tai.
1. He Is Very Proud Of His Roots
D'Pharaoh's culture means the world to him. He was born and raised in Canada is in a proud member of the Oji-Cree First Nations tribe. He is thankful that he has gotten the chance to represent his people in the entertainment industry and loves roles that allow him to stay true to himself.
2. He Loves Fashion
Acting might be D'Pharaoh's favorite way to express himself, but it certainly isn't the only way. During a photoshoot with Vogue, D'pharaoh said, "I have always been a fan of fashion, and to be given the chance to tell my story through clothes has been a dream come true".
3. It's Unclear If He's Had Formal Acting Training
Since D'Pharaoh is still pretty new to the entertainment industry, there isn't a lot of information online about him yet. With that being said, we weren't able to find anything on whether he's taken any acting classes. We also didn't find any information on how he got into acting in the first place.
4. He's Not Really Into Social Media
Since D'Pharaoh is a young rising star, lots of people would probably expect him to spend a lot of time on the internet. However, that doesn't really seem to be his thing. While he does have an account on Instagram, he doesn't appear to be that interested in posting very often. When he does post, he likes to keep his content centered around his career and not his personal life.
5. He Has A Black Belt
According to his official bio on the FX website, D'Pharaoh has a black belt in Shotokan karate. According to Voyager Shotokan Karate, "Shotokan Karate is a weaponless martial art that is founded on the basic techniques of punching, striking, kicking and blocking, yet there is a deeper aspect to serious Karate training which deals with character development. "
6. He Is Still A Teenager
D'Pharaoh may carry himself with the confidence of someone who's been around for decades, but in reality, he's barely an adult. We aren't sure of D'Pharaoh's exact date of birth, but we do know that he is 19-years-old. The fact that he's already accomplished so much at a young age is a good indicator of the bright future that's a head of him.
7. He Likes To Keep A Low Profile
The spotlight can be very alluring, and there are lots of people who get addicted to it once they get a taste of what it feels like. However, D'Pharaoh isn't interested in being in the spotlight 24/7. Instead, he seems to like to live a low key lifestyle so that he can enjoy his personal life in private.
8. He Already Has A Handful Of Acting Credits
It's only been three years since D'Pharaoh made his on-screen debut, but he's already built a pretty solid resume. He currently has five TV credits and one TV credit. He doesn't have any projects in the works at the moment, but he'll probably be back on a set in no time.
9. Some People Want To See Him Cast In Avatar
Netflix is in the process of making a live-action version of Avatar: The Last Airbender. D'Pharaoh isn't part of the cast, but there are some people who want him to be. Someone started a petition on Change.org to have D'Pharaoh replace Ian Ousley as Sokka. They believe that the person playing the role should 'look' the part and they feel that Ian doesn't look ethnic enough. So far, the petition has only gotten 34 signatures.
10. He Is A Drummer
In addition to acting, music is something else that is very important to D'Pharaoh and he has some talents in that department as well. D'Pharaoh's bio mentions that he is First Nations drummer. Unfortunately, the website did not mention how long she's been drumming for.