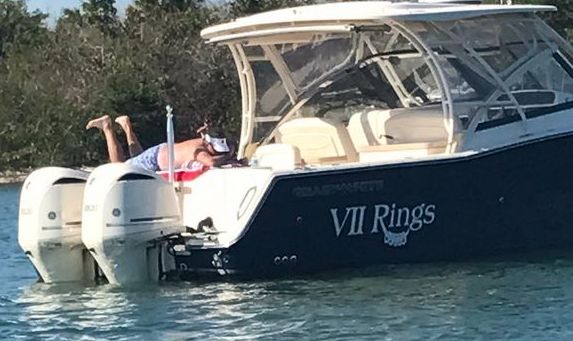 Much to my surprise it would appear that Bill Belichick is still enjoying his time off after winning yet another Super Bowl. I could have sworn he and Tom Brady would have been watching tape 8 hours a day by now. Maybe once you've won that many championships you give yourself a little more time to enjoy it all. I haven't seen Belichick since his appearance on the Tonight Show with Julian Edelman, but this beauty of a picture surfaced yesterday.
The Patriots head coach was spotted in Juniper, Florida relaxing on his new boat which he aptly named "VII Rings." Boat naming is not the easiest thing but to Bill Belichick this was a no brainer. I'm pretty sure this is the cockiest naming of a boat of all time. At the same time is it conceited? Not even remotely. It'll be even better if he can name a boat "X Rings" someday.
For now Belichick seems to be relaxed but like most competitors we know he won't be chilling like this for very long. Belichick is all about preparation and I wouldn't be surprised if he's got some high tech equipment on that sloop so he can get some film studying done.
Via Barstool