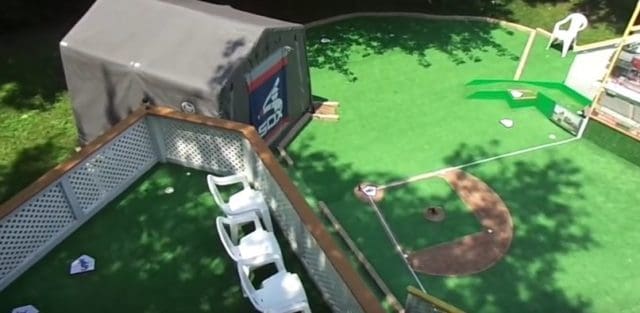 Thanks to a comment made on another website I run called "Moneyinc," I now have the pleasure of being exposed to this video which is one of the more impressive backyard ideas I've ever seen. User Steven K initially decided that he was going to build a 9 hole mini golf course in his backyard. He did just that. However, once people took notice of it, he decided to expand the course to have 18 holes of White Sox mini-golf action. Here's his full description of the video:
Hope you don't get dizzy watching this. I expanded my White Sox themed miniature golf course from last year's 9 holes to 18 holes and this quick amateur video describes how each hole is played. Added a Home Plate Club with seating and ceiling fan for watching the games on my mini jumbotron screen. I also resurfaced the course with a better layer of astroturf, added LED lights in the light towers and expanded 4 holes in the opposite direction from my hot tub screened porch.
This is darned impressive if you ask me. I'm surprised the video only has 16,000 views. This should have been viral by now.