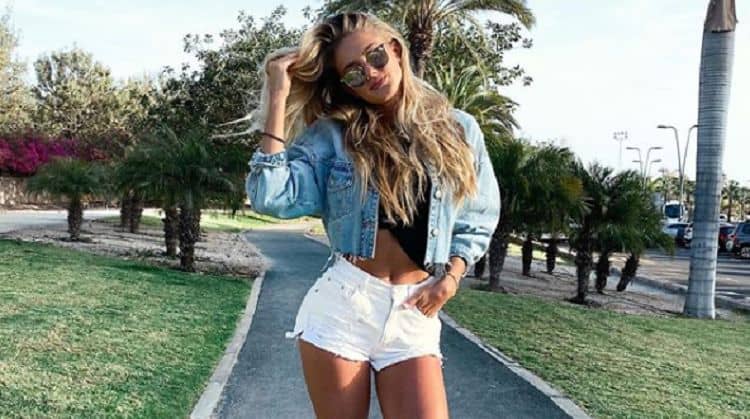 Olympians are typically associated with their athletics acumen rather than their looks, but Alica Schmidt his hitting the headlines for both her talents on the track and her stunning beauty. She has recently been tipped as the hottest athlete of the future and one to watch at the next Olympic games. So far, this 18-year-old German athlete is pretty much an unknown quantity with the exception for those in the know in her native Germany. However, her recent successes have made people stand up and realize that this young woman is one of the athletics stars to watch in upcoming events as she is set for success in her disciplines. She has also brought some media attention to herself with her recent Instagram posts, thus focusing the spotlight on herself.
Here are five more things you probably do not know about Alicia Schmidt.
1. She is Already a Huge Success on the Junior Athletics Scene
Alicia Schmidt has already proven herself as a formidable competitor in junior athletics events. For example, at the 2017 European Athletics Under-20 Championships, which took place in the summer, she helped Germany to take the silver medal in the 4×400 relay event.
2. She Has a Huge Following on Social Media
One of the main reasons why Alicia Schmidt has suddenly been brought into the public eye is for her posts on her social media sites. These have given her a huge following of 30,000 on her social media sites and this number is continuing to grow. It is her sexy bikini poses that have grabbed people's attention. When she posted a video of herself wearing a skimpy bikini on a beach while on vacation, her social media fans went wild. In fact, her raunchy Instagram posts have been described as setting fans' pulses racing.
3. She's been called the Sexiest Athlete in the World
It is not just her social media followers who have stood up and taken notice of Alicia Schmidt. She has also come to the attention of many media outlets, including newspapers, magazines, and websites. One website that has taken notice of the young German athlete is 'Busted Coverage'. In fact, they have gone so far as to name her as the 'Sexiest Athlete in the World'.
4. She is Sponsored by Puma
It can take athletes years of winning medals and championships before they get a decent sponsor. This is because the bigger companies like to see a proven record of success before they attach their name to an athlete. However, Alicia Schmidt is already sponsored by Puma, which is a good indication that she is an athlete who is likely to succeed in big athletics events.
5. She Has Three Main Events
Like most athletes, Schmidt has events in which she specializes and it these in which she will probably compete in the 2020 Tokyo Olympics. Her three main events are the 200-meter, 400-meter, and 800-meter track events. However, she also has some pretty impressive results in indoor track events, including achieving personal bests in both 80-meter and 100-meter indoor events. She also represents her country in the 4×400-meter relay events.
Save