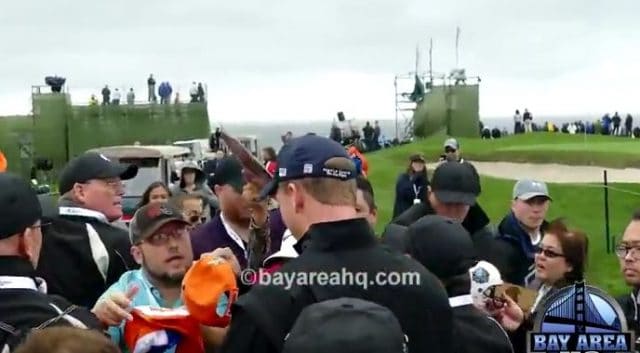 Pebble Beach had quite the scene today when a bunch of professional autograph seekers completely hounded Peyton Manning. It was like a swarm of bees gathering around honey. This was the kind of scene that probably would have freaked out most celebrities but the NFL hall of famer actually handled it like a professional. The folks at BayAreaHQ caught the whole thing on video. You'll see that in the beginning it looked almost calm and then boom. It was bedlam.
However, despite the manic attempts to get Manning to sign a piece of paper with a pen, Manning calmly signed away. After participating in Facebook's Million Dollar Hole-in-One charity event, it possible that Manning hit a hole in one and was in a good mood?
A crowd like this would have completely freaked me out. And another thing, doesn't this look a little pathetic? It would be one thing if this crowd were hundreds of little kids angling to get a chance to meet Peyton Manning. But these were grown adults doing this. It just looks completely twisted to me. I can only imagine how Peyton Manning must have felt.
Here's the clip