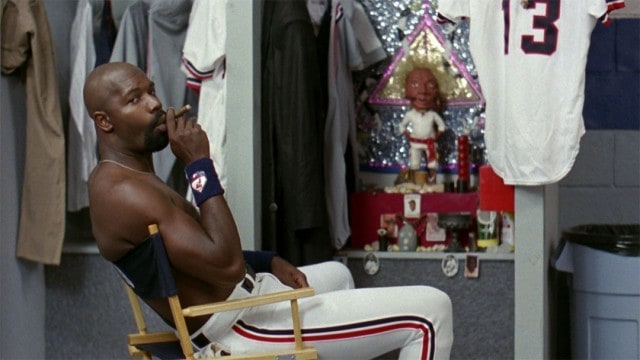 In the world of sports, nicknames are common. Just as there's a name on the uniform, fans and media come up with names for players each and every day. And sometimes, we come up with names for a player's bat, his stance, or even the way he might deal with personal issues. It's just our nature to nickname stuff.
Well, it's the same in movies. But I gotta say, it's not that easy to do. And when it comes to sports it's just as challenging a task to come up with crafty fictional nicknames for things other than the players themselves. It's hard to explain what I mean but when you get through this list you'll know exactly what I'm talking about.
Here are our favorite nicknames for sports stuff in movies.
Wonderboy – The Natural
I couldn't think of a better name for a bat than "Wonderboy." It'll always be a classic. Pop Quiz. When Roy Hobbs breaks Wonderboy in the final scene, what is the name of the bat he uses as a substitute?
Shuto – Mr Baseball
If anything I just dig when all the guys say the name "shuto" the entire time. If any of you have seen the movie Mr. Baseball you'll know that "shuto" is really just another word for funky curve or slider. It's kind of like the pitch Daisuke Matsusaka was so hyped about before pitching here in the U.S. Bottom line, it's a cool name.
The Jack Parkman Shimmy – Major League II
You gotta love the Shimmy.
Billy Baroo – Caddyshack
Honestly I can't think of a better two words attached than Billy Baroo. It just goes so incredibly well when Judge utters those words about 1000 times before hitting his put.
Jobu – Major League
Jobu is the voodoo doll of Pedro Cerrano. And anyone reading this site would know this. I would have to say any line involving "Jobu" might be one of the best lines in the history of sports movies.
Dim Mak/Death Touch – Blood Sport
Best line in this whole movie? "What the hell is a Dim Mak?" In any event, it's called the "Death touch" and allows a man to puncture a bottom brick from a stack of bricks without damaging any of the other bricks. Quite impressive.
Triple Lindy – Back to School
The best dive in the history of movies.
The Giel Peet Eight – Power of One
A deadly eight punch combination used by Stephen Dorf and taught by Morgan Freeman. Pretty interesting that a young Daniel Craig played a Nazi in this movie.
*Bonus – The Quart of Blood Technique
Know who the guy on the left is? Hint: Breaking Bad and his first name is Giancarlo.