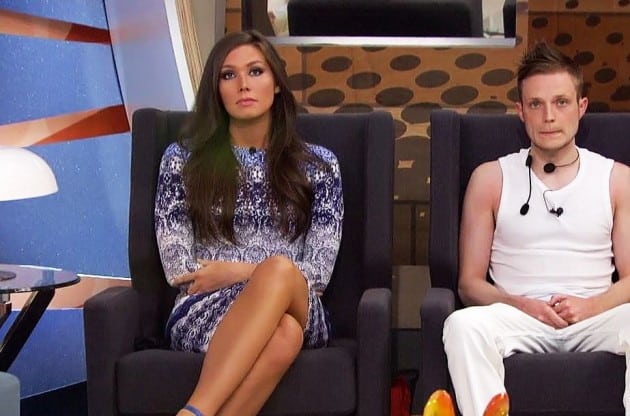 There wasn't much question as to who would be going home last night on Big Brother, as Audrey has clearly been digging her own grave all season, one lie after another. As much as she deserved to go home, it was sad to see her struggle with the fact that her time in the house was up. Right before the Veto Ceremony, she fell into a deep depression, staying huddled up in a hoodie and blanket in the Have-Not Room and refusing to talk to anyone. When she did get up, it was to go to the Diary Room, where she remained for hours leaving everyone questioning whether or not she would even stay in the game.
As the house questioned and discussed what was happening with Audrey, they seemed to unanimously believe that quitting now wouldn't be a good decision for her. She was given a chance to play this game, a chance that many people would love to have, and to waste it by walking out would be a disappointment. After hours of not knowing what was happening, she finally exited the Diary Room but still opted out of the Veto Meeting, which we saw on Wednesday's episode. It seems like she didn't fight much to stay in the house, as they didn't show her campaigning at all. She knew that the house had been wanting her out for a while, finally accepted it, and essentially gave up even if she didn't leave the house early.
Even with her fate sealed, we did get to hear from Audrey's family in this episode. It's clear that she has a great support system of friends and family who have stood by her side throughout her journey. While it sounds like they feel she went in and played the exact game that she had planned to play in the house, that almost makes it worse. One thing is for sure, though: the houseguests were more than welcoming of her after she came out to them and that was fantastic for not only us to see, but for her family and friends to see as well. I'm guessing that despite the outcome of the game, this was still a great experience for Audrey, one that will mean a lot to her going forward for that reason.
Audrey leaving the house is positive in more than one way. She'll be able to get away from the emotionally destructive environment of the Big Brother house and the houseguests won't have to deal with her lies anymore. I'm sure they'll come up with other ways to make drama. The biggest positive, though, is that this means Johnny Mac will remain in the house. And how could he not after such a fantastic plea to the other houseguests to keep him over Audrey? His hinting at something happening on the Whackstreet Boys tour bus (I don't want to know why there were stains involved) was hilarious as was his castmates' reactions. Unfortunately, the Whackstreet Boys weren't as good live as they were recorded, but that's understandable. Performing live is no easy feat.
With Audrey finally evicted from the house, it was time for another HOH competition, this time involving songs that the houseguests had to listen to and determine what kind of competition was being described. I'm still disappointed in Steve, who I expected to be much better at this kind of competition due to his die hard love of Big Brother. Instead, it was Vanessa and Jackie who pulled off the win. It'll be intersting to see what happens now that Jackie is actually forced to start playing the game. Although, Becky was an HOH one week and managed to get away without doing anything, so clearly it can be done.
By far the most entertaining part of last night's episode was, of course. the return of Britney to share her opinions on this season so far. She's always been brutally honest, not afraid to say what she really thinks. I was surprised to hear how much she's enjoying this season, as it's only been okay for me with the exception of Johnny Mac. Britney is a big fan of Vanessa, who I agree is playing a smart game but also a relatively safe and boring one. Like Britney predicted, it might be just what she needs to do to get to the final two and win the half a million dollars. Along with Vanessa, Britney thinks that either Shelly or Clay, but not both, have a shot at going far while the other will be picked off soon. She definitely knows what she's talking about, having played the game twice herself, and I wouldn't be surprised to see her predictions come true.
[Photo via CBS]