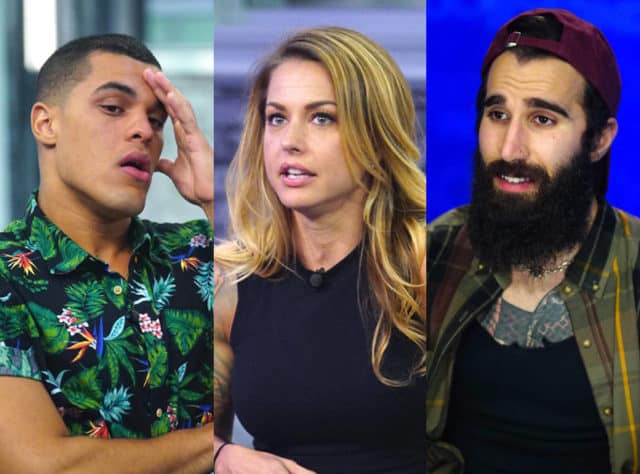 Big Brother said good-bye last night with an awesome two hour season finale. Houseguests and fans alike were shocked that Josh beat out self-proclaimed puppet master Paul to win $500,000. Luckily, fans will get two doses of Big Brother in 2018. A celebrity edition is set to air in the winter, which will be followed by the usual summer antics. Last night's finale had so many great moments, we felt we needed to share our five favorites.
1. Julie Chen Slams Paul
Big Brother host Julie Chen is no stranger to asking the tough questions. Last night was no different. After Josh was announced the winner of season 19, Julie started her conversation with 2nd place Paul by stating, "a bridesmaid once again." It was enjoyable watching their awkward interaction as Paul had to fight back tears for losing the reality show two years in a row.
2. The Houseguests Watch Some Diary Room Confessions
How can you not love Julie Chen? The host took a few minutes from last night's finale to call out the houseguests for all pledging their solidarity to Paul. She even showed several clips where each contestant said they completely trusted Paul. On the flip side, Julie also shared Josh's goodbye messages where he addressed the alliance he had with Christmas and Paul. You could see the anger in Paul's face knowing his goose was cooked.
3. All the Jury Drama
The Big Brother jury house usually has it own fair share of drama. This season was not any different. Dr. Will Kirby interviewed the jury to get their thoughts on the final three. No shocker here, but most jury members were pretty salty about their evictions. Bonus points for the ridiculous arguing match between Mark and Matt. At least, Mark can admit his game play was weak.
4. Alex Tells It Like It Is
Though Alex wasn't ready to admit that she did lie in the house during the jury interview, she probably was the most honest of the group. Alex was so honest that she made sure to call out Josh and Paul's game when she inserted her key in the box to select the winner of Big Brother. Alex stated that she was going to pick the person who stabbed in her the front (Josh) instead of the one who did in the back (Paul). Josh's goodbye messages really did help solidify his win!
5. Jessica and Cody Together Forever
Fans of Big Brother either loved the showmance between Jessica and Cody or loathed the twosome. Granted, I think Cody was a waste of a houseguest as he never wanted to do anything other than makeout with Jessica. It was nice to see the two rekindle their romance after being apart for two months. Jessica was a pretty smart player until she decided to take love or strategy. At the end of the day she did get what she wanted… at least for now.
What did you think of the Big Brother finale? Let us know in the comments section below.
Photo by: CBS
Save
Tell us what's wrong with this post? How could we improve it? :)
Let us improve this post!