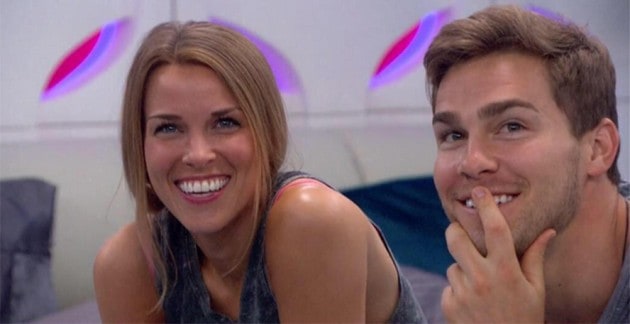 No episode of Big Brother is complete without a little lying, backstabbing, and plotting. Last night's episode, in which the veto competition took place, was no exception. With Da'Vonne and Johnny Mac on the block and Shelli planning to go back on her word to Becky to get out Audrey this week, the house was ripe for drama. The BB house is very much split in two right now, with a handful of people floating between two sides and unofficial loyalties and alliances being formed among the houseguest. It'll be interesting to see which of these stick as the game progresses. For now, though, the house must decide who will be evicted in tonight's episode. And that twist Kathy Griffin will be throwing at them could have a huge effect.
After successfully throwing the Battle of the Block competition on Sunday (which Da'Vonne definitely realized) and staying on the block, Johnny Mac had one more chance to guarantee his safety this week, despite being told he was a pawn. That opportunity came in the form of the Veto Competition, that required the houseguests to memorize a list of items, view a picture, determine which item was missing, and go grab it before returning. Everyone this season is so paranoid about being a pawn and this is the second week in a row that one of those pawns won the veto to to take themselves off the block. Johnny Mac pulled off the victory pretty easily, marveling at the fact that it isn't every day you get to hold a giraffe and win a veto.
Things in the house got interesting after John's veto win, as everyone realized that this meant Shelli would have to put up a replacement nominee. Most were expecting her to follow the plan that they'd been told at the start of the week by backdooring Audrey but she and Clay had other ideas. Their first order of business was to talk to Becky about the possibility of potentially getting out Da'Vonne this week and waiting a week to take out Audrey, who would still be just as big of a target. Becky reluctantly agreed, realizing that there was nothing she could do to change their minds and having to go along with whoever was in power.
Next, Shelli and Clay tried to talk John out of using the veto on himself, instead remaining on the block as a pawn. They're worried if they put someone else up, the vote might not go the way they want it to. Johnny Mac, who had already went along with them and thrown a competition that week, was not okay with this absurd proposal from two people that he wasn't even aligned with. This left Shelli with only a few options of who to put up if she wanted to see Da'Vonne leave. When she voiced her desire to use Liz as a pawn to Austin and Vanessa, the two immediately took action, not wanting to see their good friend and potential ally go up on the block.
That night Austin heard James, Jason, Da'Vonne, Jeff, and Meg giggling together in the other room and concocted a story that he relayed to Vanessa. The two of them then went up to the HOH room to talk to Shelli and Clay, telling them that those five were working together and unless one of them was put up, they could swing the vote to get rid of Liz over Da'Vonne. A complete fabrication, Shelli and Clay bought the story nonetheless, inspiring them to put up the beloved houseguest Meg instead of Liz. With Meg on the block, that's one less vote that could help Da'Vonne and since Meg is so well liked, it's unlikely that anyone would want to vote her out.
While all of this is true, Da'Vonne still does have some people on her side and if the right person answers that seventh call from Kathy Griffin, they would use the power to take away votes from three people and change who goes home. Right now, I'm hoping that doesn't happen because I really like Meg and want to see what she does in the game. On the other hand, Da'Vonne brings the essential drama to the game that makes Big Brother what it is. In an ideal world, Audrey really would have been sent home this week, I can't stand how she's playing the game. Hopefull,y she'll still be the target next week so that this season can continue on without her.
[Photo via CBS]