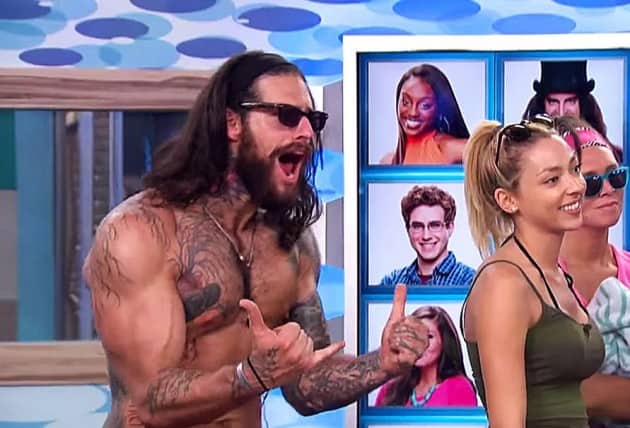 Sunday night's Big Brother episode brought with it two new HOHs as Vanessa and Austin started actually playing the game. Along with that, it brought a big new alliance and further discovery of the Twin Twist that all added up to a highly entertaining episode. Once again, the house thinks the plan is to backdoor Audrey this week but once again, the HOHs have other true intentions. At this rate, Audrey will continue floating through the house with no real friends or allies, continuously escaping eviction despite how awful she is at the game. Nonetheless, Austin and Vanessa plan to target either Jeff, Jason, or James this week, sights set most on Jeff who is playing an impeccable social game (despite his lack of brains).
Since Vanessa and Austin have been friends since the start of the season, it's no surprise that they got together to form a plan for the week with their HOHs. They decided that they would put up James on one side and Jason on the other, placing pawn Meg with Jason and infamous BoB thrower, Johnny Mac, with James. The two wanted to ensure that Vanessa remained sole HOH so that Austin could play again next week and knew that if they asked John to throw the BoB, he would do it. Of course, this led to more hilarious Diary Room sessions with Johnny Mac whose strategy right now appears to be just doing what people ask of him. Once again, he barely had to do anything to throw the competition, as James took care of that himself with a pathetic performance. With their plan for the week looking promising, with either James or Jeff most likely going home, Austin and Vanessa are sitting pretty.
The two HOHs have also been working on forming an alliances and making sure they have the numbers in the house. Both had become good friends with Liz and her twin Julia, who finally decided to put her trust in them and tell them the truth. Julia first told Vanessa who relayed the information to Austin, Clay, and Shelly. This group has been friendly throughout the game and see the value in keeping Liz/Julia safe until week five so that they have an extra number when both twins are able to enter the game as individual players. A strong alliance, aptly named "Sixth Sense" by Austin, was formed. This is the first alliance of the season I'm truly excited about despite my reservations when it comes to Shelly. Hopefully they can stick together and keep the twins safe.
At the same time, the rest of the house was became even more suspicious of Liz/Julia when Johnny Mac, a dentist in real life, mentioned that he noticed that 'Liz' had a crown in one tooth. They went on a mission to see if the 'Liz' in the house currently also had a crown which led to some delightful awkward interactions between her and Johnny Mac. In the end, their suspicions couldn't be confirmed but this incident did prove one thing. Liz/Julia and their alliance will have to be careful to not let the other houseguests get too close to her and risk them discovering the truth.
Right now, it's looking good for Sixth Sense but as we've seen on this show, power can shift quickly and no one is truly safe. The results of this week's POV should determine who goes home, either James or Jeff, but either way it will be one less number for that side of the house and that could hurt them in the long run. Meanwhile, other houseguests are floating by, barely doing anything and remaining out of the drama. Eventually they might be targeted because of this but for now, no one is going to bother taking out someone who is doing nothing, no matter how much more interesting the show would be without those floaters.
[Photo via CBS]