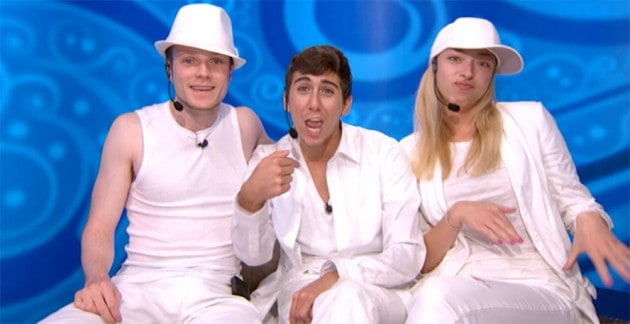 For the first time in a while, despite being nominated every week, Johnny Mac has found himself on the block going into Thursday's live evictions. In the first episode and from the preliminary interviews, I pegged him as the most annoying houseguest this season on Big Brother. Since then, he has won not only my heart, but all of America's. Whether he's touring with the Whackstreet Boys or doing something else entirely, Johnny Mac always finds a way to entertain with his hilarious diary room sessions. If he were to somehow be sent home this week, we would all mourn his loss, and this season would be a lot less delightful. Thankfully, things are still looking good for Johnny Mac as there's another houseguest who has continuously made mistakes in the game and looks to have finally dug their own grave in the Big Brother house.
Unsurprisingly, Audrey took a week that should have been easy for her and once again made herself a target. With Shelli as the reigning HOH, the one person who has gone out of their way to save her, all Audrey needed to do this week was lay low and not make a scene. Instead, her paranoia led to a big fight with Shelli's number one ally, Clay.
Because Shelli had ratted out Audrey to Jason after putting him on the block, telling him that Audrey was the one her told her that he was coming after her, Audrey started doubting if she could trust Shelli. Concerned, she brought it up to Clay, making him swear on his life that she wouldn't be put up as a renomination. Of course since Clay and Shelli are so close, he immediately brought this information to her and the two started doubting if they could work with someone who doesn't trust them. Still, Shelli felt awful about the possibility of putting Audrey up, not wanting to hurt one of her closest friends in the house.
Later in the backyard, Audrey and Clay started talking again and it quickly escalated as Audrey tried to deny ever making him swear that she wouldn't be nominated. I'm not at all sure why she felt the need to lie about this, especially since her lies are the reason she got in the position she's in to begin with. Nonetheless, it effectively angered Clay who again relayed the conversation to Shelli. It was clear they needed to do something, only becoming more clear when Audrey came upstairs and started verbally attacking Vanessa.
It wasn't an easy decision for Shelli, seeing as she bonded with Audrey since the very first day in the house but in the end, she knew she had to nominate Audrey. They've become good friends but Audrey is just too paranoid and at the end of the day, this is a game. If Shelli wants to have any chance at winning the half a million dollars, she needs to cut ties with Audrey and send her packing. Last night we saw the emotional toll this took on both Shelli and Audrey, the later who didn't even attend the POV ceremony.
With everything that has happened it's probably for the best that Audrey will be leaving the house. Her strategy from the start has been awful and she clearly can't handle the pressure of the game which is affecting her mental and emotional health. She'll hopefully be able to regroup once she leaves the house and put this experience behind her. That is, unless she finds a way to magically save herself. But remember, if Johnny Mac is evicted, we riot.
[Photo via CBS]