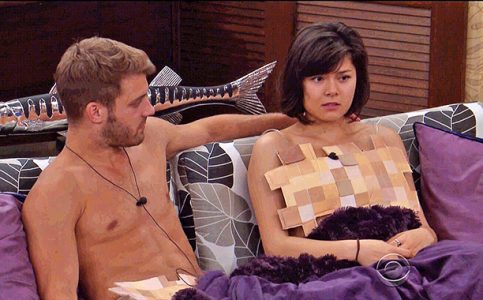 As we've seen on Big Brother, big alliances rarely stick together until the end. With so many personalities, people are bound to clash leading to the drama that Big Brother always delivers. For the Eight Pack, this happened sooner rather than later, with cracks already beginning to form in this alliance only three weeks into the season. At the head of these cracks are Tiffany and Frank, both of whom are somewhat confrontational and stubborn when it comes to what they think. The plan all week was to evict Victor and while the house followed through on this, Tiffany might not be far behind.
Tiffany's biggest problem right now is her paranoia, which she seems to have inherited from her sister Vanessa. Both girls are highly emotional and constantly worried about secret plans to get them out, which often rubs other houseguests the wrong way. For her alliance members in the Eight Pack, this led them to think she doesn't trust them which in turn made them think maybe they shouldn't trust her. This, combined with her already unsteady relationship with Frank has divided the alliance with each member questioning who they can and cannot trust.
After Tiffany was put on the block by Victor as the Roadkill nominee, everyone had to question whether they truly wanted Vic out when they had a chance to take a player as unstable as Tiffany out instead. Frank's biggest concern was her trying to blow up his own game by telling Paulie about the alliance, someone who is close to everyone in the group but is technically not part of the Eight Pack. To counteract this, he went ahead and told Paulie himself about the alliance, to the displeasure of some of the other alliance members who viewed this as Frank only looking out for himself. Trying to go against what Frank wants is not something many of them want to do at this point though, knowing that he is stubborn and this would only anger him.
With both Frank and Tiffany somewhat on the outs in the big alliance, it was time for the rest of them to start considering who they really could trust. For Zakiyah, Nicole, Da'Vonne, and Corey, Paulie has always been a close ally and the five of them could go far together. Da'Vonne views herself as the fifth wheel in this scenario though, knowing that Zakiyah/Paulie and Nicole/Corey are both very close. She went to James with this information and it looks like these two view each other as someone they can really trust. At the same time, the girls of the Eight Pack had previously formed an alliance called the Fatal Five but they're thinking about eliminating Tiffany from said alliance, making it the Fatal Four. As James so aptly put it, at this point everyone is playing everyone else.
Despite all the drama in the Eight Pack, however, it was still Victor who found himself talking to Julie on eviction night. From the start, Victor has played a questionable game and because of this, rightfully deserved to be evicted. He was way too honest with people, revealing information that he shouldn't have even considered revealing to other people. At the same time, he was completely oblivious to all the hints Paul was trying to drop to him along the way. If he had picked up on these hints, he could have perhaps played the week differently and gotten people to evict Tiffany instead. Victor truly dug his own grave in the Big Brother house but there's still a chance he might return in the Battle Back, hopefully having learned his lesson.
As it stands now, Bridgette is the new HoH, guaranteeing her team's safety for the week, which includes Frank. In the past week, Frank has been working on getting in Bridgette's ear and he might be able to convince her to do his dirty work for him and take out Tiffany. She seems keen on working with the girls but at this point, this might be the best move for Bridgette. Only time will tell though and someone else could easily make themselves a target sometime in the next week. It certainly wouldn't be the first time something like that happened.
Summary
On Big Brother, tensions rose in the Eight Pack this week as members of the alliance questioned both Tiffany and Frank's loyalties.