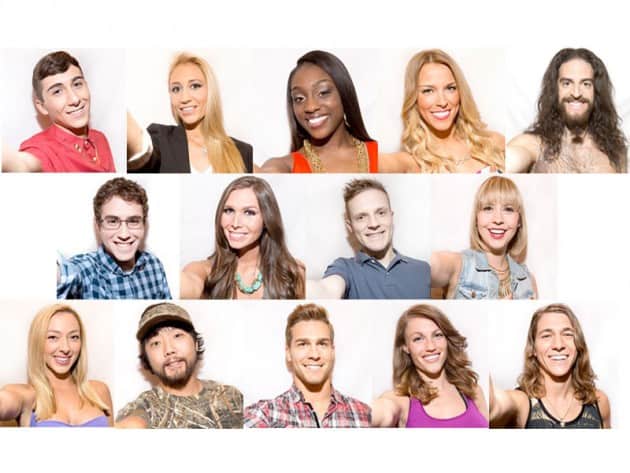 Another season of Big Brother is almost upon us, and with another season comes more big personalities. Often times, what the houseguests say in their original interviews has no affect on how they play the game. It lets us get a sense of their overall personalities, but what really matters is how they act once the game starts. Nonetheless, it's always fun to look at these initial interviews and make base judgments about the houseguests and how they'll do in the game.
This year, Big Brother will feature 14 houseguests, battling it out for the half a million dollars. More than ever, it seems like this will be a season full of huge personalities. One thing that stood out, though, was that with the exception of one or two players, everyone seems to be a fan of the show, having watched for years. This will make for an interesting season as we see who really knows Big Brother well enough to win it all. Here are my first impressions of the houseguests:
Audrey Middleton
Aubrey is one of many super fans this season, but plans to play that down. She wants the other houseguests to view her as ditzy while she actually works on building strong relationships with them. At the end of the day, she isn't afraid to get blood on her hands and has stated that she wants a girl to win. While on the surface, this may sound like an okay approach, she's going to have to be careful about not getting too much blood on her hands as that will make her an easy target. My guess is that she'll try to play too hard too fast and will be one of the first eliminated.
Austin Matelson
Austin will be an immediate target just because of his appearance. He used to wrestle for WWE and has the muscles to prove it. He'll want to play up the fact that he has another side to him, as he stated that he's also a cheerleader and gymnast. To show weakness, he plans on sharing with the houseguests that while he used to wrestle, he had to stop because of an injury, leaving out the fact that he has made a recovery. He plans to lay low and have fun the first week but make lasting alliances later in the game. Despite his best efforts, the houseguests might still view him as a physical threat, and if their plan the first week is to get someone like that out, he would be the obvious choice.
Becky Burgess
Big Brother seems to be casting a lot of strong women this season, perhaps thinking that it's time for a girls alliance to do some damage. Becky falls right into that plan, as she is open to an all girl group and knows how to speak to and motivate women. She plans to join an alliance and play a low key game until jury at which point she will make her presence known. Her problem is that she might come across as too full of herself, and she could be targeted for being a strong woman. She is also looking for a showmance, which very rarely bodes well for houseguests.
Clay Honeycutt
Every season needs at least one attractive idiot, and it seems like Clay is our guy this year. It could have been the nerves talking, but his interview wasn't very succinct, and he had trouble answering the questions. Out of everyone, he seems least knowledgeable about the game. That's not to say that he can't do well this season. According to Clay, he can read people and figure out their motives, a useful skill if he can actually do so in the house. He was a college athlete, which means he could do well with physical challenges when the need arises. I don't see him having the brains to make it all the way to the end, but stranger things have happened in this game.
Da'Vonne Rogers
Da'Vonne is another big personality, but while others come across as more annoying, she seems like she'll be fun to watch play the game. She knows the game well and plans to form an alliance with two other people she can trust to make it to the end. With a background as a poker dealer, she'll be able to read people rather well and while she may not appear to be a physical threat, she might surprise some people. Da'Vonne was the first to truly impress me with her interview, and I could see her going far.
Jace Agolli
Jace also impressed me with this interview, as I wasn't expecting much from him based on looks alone. He's got the long hair, surfer thing going for him but also seems to be quite intelligent. With a winning mentality and determination not to give up, Jace seems like he'll be able to pull out the big wins when he needs to. He understands that Big Brother isn't a game you can play by yourself and would love to play like Derrick, going to the end with one person. This is easier said than done, though, and it will be hard to tell how successful Jace will be until the season actually starts.
James Huling
The first ever self-proclaimed "hillbilly Asian" on the show, James describes himself as trustworthy but also a beast who can win physical challenges. He works in corrections and is good at keeping people in line and plans to take second in the first HOH in order to make a deal to stay safe. He isn't looking for a showmance but is willing to target the big threats. James comes across as more low key than some of the other contestants, which might help him at first. In the end, I could see him floating his way to the middle of the pack until someone decides to target him because of his physicality.
Jason Roy
James is our token gay this season and describes himself as friendly and a people-pleaser. He doesn't come off as a physical threat but will do anything to win endurance, surprising other houseguests. While he seems to have one of the bigger personalities this season, this could hurt him as he might make comments that offend some of the other houseguests. In his interview, he implied that women can't be threats and said he wants to work with them until they implode on each other. If he brings this attitude into the house, the stronger women might immediately target him.
John McGuire
John seemed really nervous and socially awkward in his interview, something that will hopefully go away once the game starts. There didn't seem to be much substance to his plan going in, making it hard to tell how well he will fare. A superfan of the show, perhaps he has some ideas up his sleeve that he just hasn't shared yet. Out of all the houseguests, he was the most annoying in his initial interview and if the others sense this in the house, he might be an easy one to send home first.
Liz Nolan
Liz is one who could go either way depending on how she comes across to the others once the game starts. She's got a bubbly personality, has no filter, and is very competitive. While she runs the chance of coming across too strongly, she did say she will cook and clean, something that can surprisingly help you get through the first few weeks. Liz plans to play a good social game but also be a fierce competitor, but has said that she won't do an all girls alliance because girls are catty. Overall, she strikes me as a less annoying version of Rachel which means she might go far.
Meg Maley
Meg is goofy and crazy and definitely comes across that way in her interview. She's also serious about the game, though, and thinks she'll be good at keeping her cool. In the first few weeks, she'll work hard not to annoy anyone with her loud mouth by laying low and finding that one person she wants to go to the end with. She seems like she'll be fun if she can just tone down her personality a little bit. I hope to see her go far in the game.
Shelli Poole
Shelli is one of the older houseguests at 33 and is very passionate about the game. She will lay low at first and plans to adjust every week as the game changes. If she sees an all guy alliance forming, she'll try to hone in on it and break it up before it gets out of control. Shelli seems like she'll play a smart game, listening and watching people while waiting for the right moment to make a big move. She's a bit quieter than some of the others which bodes well for her in the first few weeks.
Steve Moses
Steve is the definition of superfan and just like Ian from Big Brother 14, he's a bit geeky, awkward, and quirky. He will play up the fact that he's young, hoping to slide by for the first few weeks on that alone. At the same time, he'll downplay how big of a fan he is while asking about other people and getting to know them. Steve notes that blending in is the key to the first few weeks and he is not interested in showmance because an emotional involvement can get in the way of playing the game. If he can do what Ian did a few seasons ago, Steve has a good chance at winning.
Vanessa Rousso
The biggest thing Vanessa has working in her favor is that she's a professional poker player and is used to the pressure of a game like Big Brother. Mental endurance will be the biggest challenge for her though, as a season of Big Brother lasts a lot longer than a poker game. Vanessa plans to hide her career but will share with the others that she has a long term girlfriend. She wants to get to know everyone in the first week, making it a point to have a conversation with each houseguest. If she were to try an all girls alliance, it wouldn't be until later in the game once personalities are established. I think Vanessa could go far in the game if her interview is anything to go by. She's well-spoken, not too out there, but friendly enough that it shouldn't be difficult for her to make friends. With a good plan in place, she might be the dark horse this season.
____________________________________________________________________________________________
So there you have it, our houseguests for this season of Big Brother. Even though we won't know how each person will play until the game actually starts, it's always fun to speculate. Who are your early favorites to win it all?
[Photo via CBS]