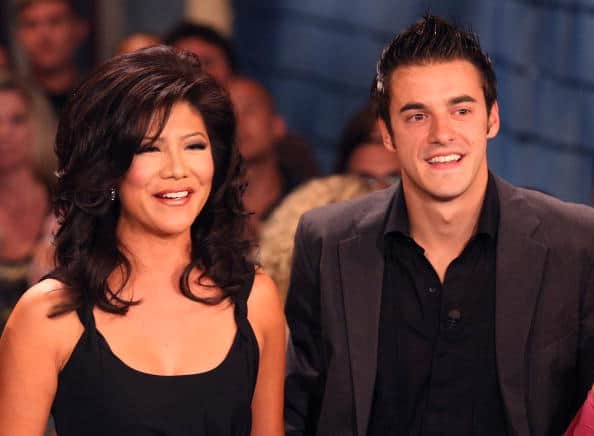 Now approaching its 18th season, Big Brother has gone through many changes and twists since it began airing in 2000. On the most recent season, the Battle of the Block competition that started the season prior was back. There was also a Twin Twist (which appeared during Season 5), and the brand new Big Brother takeover that featured a special celebrity guest each week. I decided to take a walk down memory lane and select my favorite contestant from each season of the series. Did your favorite Big Brother houseguest make the list?
Season 1 – George "Chicken George" Boswell
The first season of Big Brother is very different than it is played today. The season only had 10 contestants and Chicken Geroge was the most memorable. He was even invited back for the All-Star season.
Season 2 – Monica Bailey
Many people may feel that Dr. Will was the best houseguest from Big Brother 2, but Monica Bailey is crowned the winner. She was able to hold her own against the annoying "Chill Town" group and her sassy attitude was always enjoyable to watch.
Season 3 – Danielle Reyes
Danielle probably had the most entertaining diary room sessions during Big Brother 3. She would talk so much smack about the other houseguests, which ultimately decided her second place fate. Future seasons would withhold diary room sessions to jury members to not sway their votes.
Season 4 – David Lane
Big Brother 4 has a lot of horrible houseguests including Dana and Alison. David was by far the funniest and nicest of all of them. Sadly, his ability to befriend everyone in the house was his downfall as the others felt he was a hge threat. He was kicked out on Day 26.
Season 5 – Jennifer "Nakomis" Dedmon
Nakomis was targeted early on during Big Brother 5. Luckily, she was able to escape eviction and come up with the now famous "Six Finger Plan" that would see the eviction of Jase and break up the very powerful Four Horsemen alliance.
Season 6 – Janelle Pierzina
If you watched season 6 of Big Brother, you either liked the incredibly annoying Friendship Alliance or the awesome Sovereign Six alliance, which featured Janelle. Though she was not able to make it to the final two, Janelle still made watching this season a blast.
Season 7 – Dr. Will Kirby
It was surprising how far Dr. Will made it during the All-Star season of Big Brother. For someone that was not trying very hard, he was still able to manipulate almost every player and still secure a fourth place finish. I found him more entertaining this time around compared to season 2 when he was crowned the victor.
Season 8 – Jessica Hughbanks
It was hard to find anyone to root for during the eighth season of Big Brother, so we have chosen Jessica as our favorite from the season. Her only downfall was pining over Eric Stein. The house felt the same away about their relationship as we do and they were both evicted on Day 69.
Season 9 – Sharon Obermueller
It is safe to say that Season 9 of Big Brother, which aired in February during the Writer's Strike was one of the worst cycles of the show. However, Sharon was one of the positives in an overall negative season. She was kicked out early on because of her ex-boyfriend, but was welcomed back into the house when another houseguest left the game.
Season 10 – Dan Gheesling
It was so entertaining to see Dan play the Big Brother game during the 10th cycle. He was so intelligent that it was easy for him to play mind games with the other houseguests. Remember Big Brother Roulette when Dan backstabbed Ollie and Michelle, but still managed to wipe his hands clean of any wrongdoing? It will go down as a top moment of the series.
Season 11 – Jordan Lloyd
Jordan would align herself with future husband Jeff during the 11th season of Big Brother. When he was evicted on Day 61, she needed to play the game for herself. She was able to secure the pivotal Head of Household that led her to the final two. She would go on to win the $500,000 prize and be known as one of the nicest houseguests to ever play the game.
Season 12 – Britney Haynes
Early on, it looked like Britney Haynes' time in the Big Brother house would be short-lived. Her BFF Monet was kicked out on week two, so Britney needed to change her negative attitude and align with new people. She chose Hayden and Lane, but they got rid of comical Britney on Day 67.
Season 13 – Rachel Reilly
Rachel made her first appearance on Big Brother during the previous cycle of the reality show. Though some people found her completely irritating, she was able to redeem herself during season 13 when she was able to take home the $500,000 prize. Rachel proved that being smart and competitive will help a contestant win, no matter how much you get on everyone's last nerve.
Season 14 – Ian Terry
Ian Terry did not look like a fierce competitor on Big Brother 14. That may be why he did not get nominated once for eviction until Day 68. Ian had the intelligence to take him to 3 Head of Household victories and an appearance in the finals along with Dan Gheesling. Ian's favorite player was Dan so it was bittersweet seeing Ian take home the $500,000 prize instead of the former winner.
Season 15 – Helen Kim
During the first few weeks during the 15th season of Big Brother, it appeared that Helen was going to go very far into the game. She was smart, a good physical competitor, and she aligned herself with Elissa the biggest threat in the house. The two of them were able to convince the entire house to evict countless other houseguests to keep Elissa around. Andy was the one who finally figured out how threatening Helen could be and the house sent her packing.
Season 16 – Nicole Franzel
Big Brother 16 was full of many strong personalities. However, Nicole Franzel was not one of those. Nicole was fun, strong, and entertaining without having to make waves in the Big Brother house. Nicole was stabbed in the back by her alliance, but was able to return to the game. She was too smart for her own good and Derrick knew she had to be evicted again, which took place on Day 77.
Season 17 – Austin Matelson
If we had to pick our favorite houseguest it would be Austin the professional wrestler from California. He had secret alliance with Vanessa and Liz, while also playing it low-key after his bro Jace was offed during week 1.
Who is your favorite Big Brother houseguest? Let us know in the comments section below.
Photo by Frederick M. Brown/Getty Images