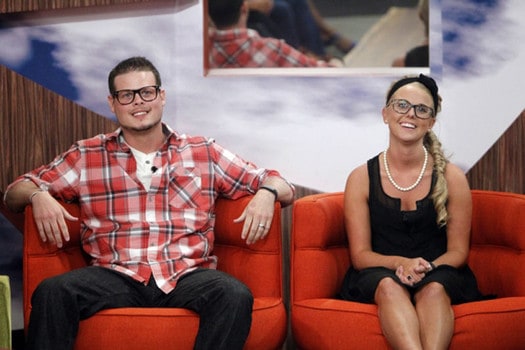 It is hard to believe that the 16th season of Big Brother ended two months ago. In June, 16 people entered the Big Brother house and were cut off from the real world. This means no television, internet, or phone service. After three months of tough competition, Derrick Levasseur the undercover police office from Rhode Island took home the $500,000 prize while his BFF in the house Cody Calafiore walked away with second prize.
We at TV Overmind decided to grade all 16 houseguests and see who came up at the top of the list (Nicole) and at the bottom (Devin). We will grade each participant in the following categories: Likability, Personality, Length in the House, Physical Compeititons, Mental Competitions.
Joey
Joey's stay in the Big Brother house was short-lived. It was even shorter if you figure in the amount of time she decided to be Alex. Joey came into the house wanting to play Big Brother from day 1. She needed to sit back for a few days and take everything in before trying to get an all girl's alliance team together.
Final Grade: E
Paola
Though Paola's time in the Big Brother house was short (21 days) she still managed to play her fair share of competitions. Whether it was a mental or physical competition, Paola never seemed to excel. The only reason she lost the battle of the block competition with Donny was because she could not remember how to swing…
Final Grade: D-
Devin
Like Joey, Devin decided to play the Big Brother game too hard too fast. He put together a six person alliance and decided to add two additional members to it without letting the rest of his team weigh in on the decision. He even decided to host a house meeting where he let everyone know he has a daughter, in case they forgot.
Final Grade: F
Brittany
Brittany was able to show she could handle physical competitions when she was faced with kicking a soccer ball 2,400 times in 24 hours. For you readers who do not excel in math, that is 100 kicks an hour. Brittany's downfall was not being able to build strong relationships with some of the male members of the house.
Final Grade: C-
Amber
Amber would have gone far in the game had she not been the apple of Caleb's eye. Everything was going fine until week 5. This is when Hayden won the Power of Veto and used it and Frankie, who was Head of Household, placed her up in a nominee's place. This was all done because Caleb's alliance did not want to see him distracted by the beautiful Amber.
Final Grade: B-
Jocasta
Jocasta was one of the nicest people on this season of Big Brother, or of any season. Her downfall comes down to how horrible she was at competitions. Jocasta was able to get taken off the block a few times but it was only because someone else won the Veto and pitied her. That could be smart game play, but she didn't even come close to winning the $500k.
Final Grade: D+
Hayden
It appeared that Hayden did not have an enemy in the house. He had aligned with both Nicole and Christine. The three proved to be worthy opponents. Then Christine needed to choose which of her alliance she thought would get her further in the game. This resulted in Hayden's early eviction from the house, the same night as Mama J.
Final Grade: B
Zach
Zach was the most entertaining person in the Big Brother 16 house. He pretended to be Amanda from Big Brother 15's cousin just because he was bored. The only downfall in Zach's game was that he decided to join an alliance with Frankie. He trusted him may more than he should have and as a result he was sent home on day 63.
Final Grade: B+
Donny
For some reason, people found it really hard to trust Donny. This makes no sense because everyone absolutely adored him in the house. We know this because once everyone saw his good-bye message they would praise the guy. Not only was he a nice fellow, he was a tough competitor winning 3 POV, 1 Battle of the Block, and 1 HOH competition.
Final Grade: A-
Nicole
It looked like Nicole was destined to go far in the Big Brother game. However, Christine decided to stab her in the back and she was sent packing on Day 56. Nicole is a tough competitor and was able to win the competition to get back in the house. She survived two weeks. Had Frankie lost the Battle of the Block that Caleb refused to participate in, I think Nicole would be $500,000 richer today.
Final Grade: A
Christine
A lot of fans despised Christine by the time this season of Big Brother had concluded. She went against her BFF Nicole and sent her home and was also flirting with Cody while her poor husband watched from home. Christine should have known she was the weakest link in The Detonators, but she was too enamored with Cody's abs to notice.
Final Grade: D
Frankie
It only took 88 days, but The Detonators finally got Frankie out of the house. Frankie was almost sent home weeks prior, but then he told everyone he was Ariana Grande's brother and they seemed to forget he threw every single one of them under the bus. When he wasn't staring at himself in the mirror, he was talking bad about his houseguests. That attitude won't win you $500 k.
Final Grade: F
Caleb
After Amber was exterminated from the house, Caleb was finally able to play the Big Brother game. He survived until Day 90. He could have lasted longer if he had not listened to Derrick and Cody when they told him to evict Frankie, his only ally, out of the house the previous week. However, he was good as competitions.
Final Grade: C+
Victoria
The only person in America who did not think that Victoria was a floater was Victoria. She was able to win 1 Veto competition during her entire stay in the house and not a single HOH. I guess she deserves some credit for making it as far as she did.
Final Grade: C-
Cody
Cody made the worst decision of his life when he decided to take Derrick to the Final 2 instead of Victoria. Granted he had promised Derrick that they were going to the end very early on in the Summer, but no one would have voted for Victoria to be the victor if they had been given the chance. I guess $50 k is better than nothing at all though.
Final Grade: B
Derrick
Derrick ended up winning Big Brother and is the only contestant in the history of the game to never be nominated. He was able to build trust with every single houseguest and at the same time never have any blood on his hands when they were evicted week after week. I guess those police skills really did come in handy.
Final Grade: A+
Did your favorite houseguest make the grade? Tell us in the comments section below.
Photo By: CBS