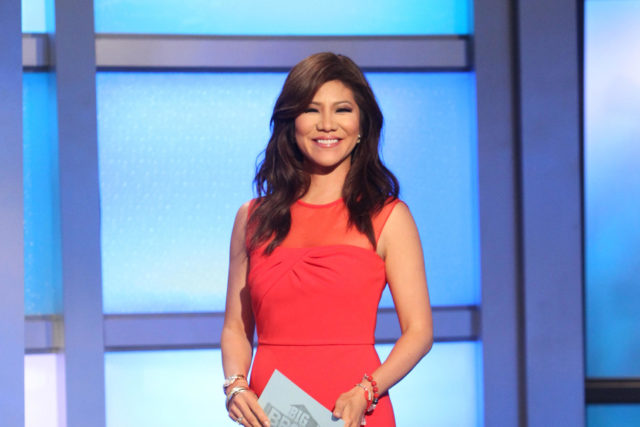 Big Brother will be crowning another winner when the summer reality series concludes next week. One of the staples of the long-running show is the lovely host Julie Chen. When not interviewing the latest evicted houseguest, Chen can also be seen discussing the latest news on the afternoon gab show The Talk. Here are five things that you may not know about the talented journalist.
1. Her Favorite Big Brother Winner Would Surprise You
Entertainment Weekly recently polled Big Brother fans to find out who they believed was the best winner in the 18 previous seasons of the show. Will Kirby from Season 2 was voted the fan favorite. Julie Chen did not feel the same way. She gave her kudos to Rachel Reilly from season 13. In an interview with EW Chen announced, "She had everyone against her – a power couple, her and Brendon. She was also seen as very obnoxious in the house, a little bit of a troublemaker, a loudmouth. And she had everything stacked up against her. But she pulled it out by winning competitions and ultimately, when you get the jury to vote after you have pissed off so many people, that says a lot."
2. She Interned with Another Famous Person
While Julie Chen was attending the University of Southern California in 1990, she was an intern at CBS Morning News. She would return to anchor the show almost ten years later in 1999. Her main duties included making copies and answering phones. She worked alongside Andy Cohen, who would later go on to produce The Real Housewives series.
3. She is an Emmy Winner
Though Julie Chen has never been nominated for an Emmy for her awesome work on Big Brother, she has received several nominations for hosting duties of The Talk. In 2017, Chen along with Sharon Osbourne, Sheryl Underwood, Aisha Tyler, and Sarah Gilbert took home a win in the category of Outstanding Entertainment Talk Show Host at the Daytime Emmy Awards.
4. She has been on a popular cartoon
Julie Chen has popped up on several CBS shows in recent years. You may have caught her on Madame Secretary, The Millers, and Supergirl. Chen has even lent her voice to the popular Nickelodeon cartoon The Fairly Oddparents. She played Starlet on a 2005 episode.
5. Family Secrets
Julie Chen is no stranger to sharing information on her personal life. The journalist revealed before and after photos of her plastic surgery she had in the 1990's. She has also revealed on The Talk that her grandfather was a polygamist and that her great-grandmother was murdered by bandits. One of those bandits would go on to marry her aunt.
Do you know any other fun facts about Julie Chen? Let us know in the comments section below.
Photo by: CBS
Save