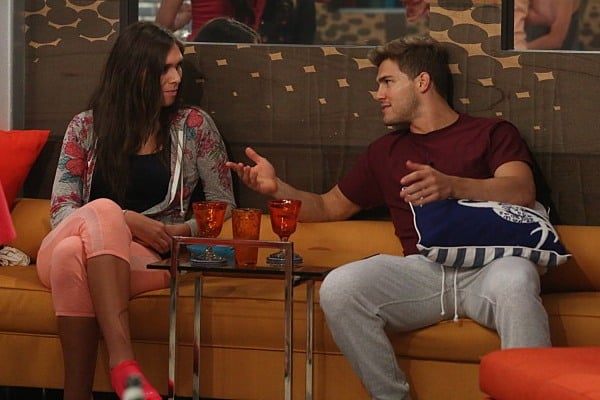 It might just be me, but it seems like every person on Big Brother this season is attempting to get evicted. They're constantly making decisions that are completely illogical and trying to go behind people's backs while being super obvious about it. At this point, everyone deserves to be gone, but unfortunately only one person can be evicted this week. The Sixth Sense alliance is at least trying to put something together, even though they're doing a pretty terrible job with it. As it stands, Shelli is the reigning HOH, having stayed in power over another member of the alliance, Liz. They aren't entirely sure who they want to target this week, but the Veto competition on Wednesday should clear some things up.
With two members of their alliance in power at the beginning of the episode, the Sixth Sense had to decide who they wanted to nominate. They threw out a few names of people who they think might come after them in the next couple weeks, ultimately landing on Jason or James. Jackie also became an appealing choice when they realized that no one had really talked game with her, and she had done nothing but float through the game so far. Only one more nomination had to be made, so they went to their go-to pawn: Johnny Mac.
As Johnny Mac so succinctly put it, if the game being played was to try to be nominated the most, he would be winning. For whatever reason, Clay and Shelli think they can use him week after week, putting him on the block and asking him to throw the Battle of the Block so that they can walk away with no blood on their hands. It's clear that John is getting a bit tired of this routine, even going so far as to try to win the BoB this week. Ultimately, he and Jason couldn't pull it off, but it was as close as John had gotten to winning one all season.
While it was completely idiotic of Clay to pull John aside and ask him to throw another competition in front of Jason, that wasn't the dumbest thing someone did tonight. That title goes to Austin, who basically told Jackie that she was going to go on the block and that she should talk to Liz about it. Austin has to realize that if he's in an alliance and wants them to have his back, then he has to have their back, too. In the end, he's going to have to do what's best for his game, but there's no need to share this kind of information when it won't benefit him in any way.
Audrey also got herself stuck in another lie last night, one that has Shelli questioning who she truly wants to send home. Earlier in the episode, the Sixth Sense had talked about targeting Jason, but it wasn't until Audrey came to Shelli telling her that Jason was after her that Shelli really made up her mind to nominate Jason. Word got back to Jason that it was Audrey who told Shelli this, and he denied it, saying that he never told anyone that he was targeting Shelli. This cast isn't smart enough to realize that they can't believe anything Audrey says, even though they've been burned time and time again by her lies. Sure, Jason probably would have gone on the block with or without Audrey's involvement, but because she did say something that ended up being dishonest, Shelli is again questioning whether or not she should be kept in the game.
With the Power of Veto still in play, the door is wide open for almost anyone to go home this week. They might stick with the plan to get Jason out or they could change their mind and finally make the smart move, taking out Audrey when they can. If not, then she probably just deserves to win this season by default. It would be nice if we actually began seeing other players start playing the game, but for now, we'll have to rely on the Sixth Sense to make all the moves, no matter how unintelligent those moves are.
[Photo via CBS]