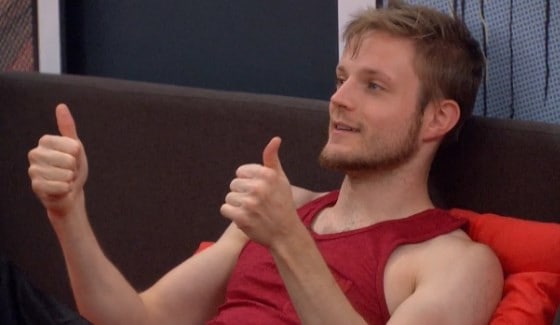 There's been a lot of constants in this season of Big Brother, things you can rely on, knowing that you'll never be let down (no matter how badly you want to be). Austin's creepy love for Liz is one of those constants. Steve and Johnny Mac being unwilling to make a big, or even moderately risky, game move, James' pranks, and even Meg's grandma routine are all things we could count on. But no houseguest this season has been as annoyingly and frustratingly predictable as Vanessa. From her insistence on always wearing hats to her extreme paranoia and her inability to believe that anyone other than she would play this game strategically, nothing has changed in her game since day one. So of course she had to go and win the HOH competition, guaranteeing herself a spot in the final four.
Like any time Vanessa is in power, she decided she needed to make the best strategic move for her game. She's at least smart enough to know that she's the awkward fifth wheel right now, with no one taking her to final two if it came down to that. Liz and Austin are locked into a showmance, and Steve and Johnny Mac know they'd have a much better chance going against each other at the end than they would going against Vanessa. What it came down to then is who Vanessa thought would get her to the final three so that she could win her way into the final two.
Unsurprisingly, Vanessa took the worst approach ever to making this decision. It started with interrogations of everyone left in the house, demanding they give her all the information they have. Naturally, when they did give her the information, she was foolish enough to get angry with them for going and making deals behind her back that they had no intention of keeping. That's a great way to not alienate people and make them trust you.
For instance, Austin and Liz made tentative deals with Steve and Johnny, making them feel like they were safe the next week if they voted Julia out over Liz. If Vanessa was in their position, I one hundred percent guarantee that she would have done the same thing. It would have been a strategic game move, nothing personal. But when they go behind her back and do this, it's completely personal.
After overreacting to all the information she received, Vanessa then had to make a decision. Go against Austin and Liz, who are obviously the bigger threats and will undoubtedly keep each other over her or go against Steve and Johnny who have no real allegiance to each other. Her rationale had to do with the idea that Steve would never take her to the final two over Johnny, who has won no HOHs and is an easy person to be sitting next to at the end. But that logic doesn't work the other way with Austin and Liz apparently, who are in the same position only with the added benefit of dating each other.
Her nomination speech was perhaps the most frustrating part of the episode, though. After time and time again crying over people mentioning they might put her on the block, Vanessa went so far as to tell Steve that she considers him a friend and that the nomination wasn't personal at all. But when she even thought he had considered nominating her as a strategic move earlier in the game, she went absolutely insane. And her speech for Johnny Mac wasn't much better. In fact, it was just as hypocritical. She spent the whole week talking to people about how little of a threat Johhny Mac is in competitions and then told him that the reason he was nominated was that he was great at comps. Her mantra all week was that she needed to come up with good reasons to put whoever she decided on the block and these reasons couldn't have possibly been worse.
Knowing Vanessa, she'll find a way to weasel her way into the final three and will somehow end up winning this season despite being one of the worst game players ever. How no one has had the guts to take her out yet is beyond me. All I do know is that by keeping her around, they've made a season of Big Brother that could have been rather enjoyable into a complete disaster.
[Photo via CBS]