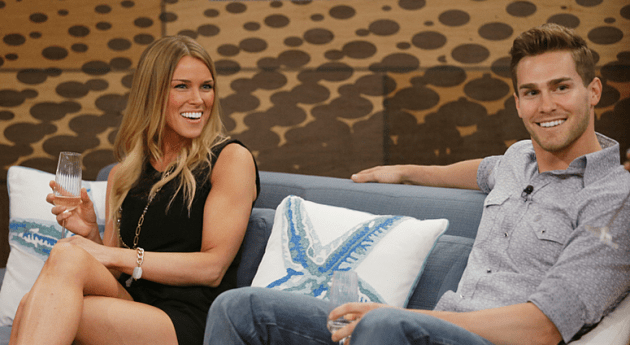 Each week, I convince myself that there's no way that the Big Brother houseguests could be any less intelligent than they were the week before, and every time they prove me wrong. This season is full of people who don't seem to know how to play the game, with the only exception being James who was willing to make a big move in an attempt to take out the biggest threat to everyone's game: Clelli. Like any person with half a brain, he realized that Shelli is the mastermind behind the Clelli operation and that Clay would be nothing without her. Logically, then, she would be the best one to take out. If only the rest of the houseguests were that wise.
With the shock of having been nominated together, something that Clay and Shelli really should have seen coming, they had to deal with the very likely fact that they would be split up this week, right before jury. When James won the Veto competition, effectively securing all the power this week, their fate was sealed even more. That didn't stop them from attempting to spill some of Austin's secrets, particularly about his alter-ego Judas, to James in an attempt to place the target on him. Unsurprisingly, their plan was enough to sway James, who was deadset on getting one of them out.
While Shelli cried her way throughout Wednesday and Thursday's episodes, she wasn't the only one in tears. Meg, drunk off of the wine served at the Veto competition, was also quite distraught despite being one of the main players pushing forward the plan to put Clelli on the block. Perhaps she thought that with Shelli out, she would have Clay all to herself. After all, that is what's most important in a game that's being played for half a million dollars. Whatever her reason was, when Clay asked her to promise to evict him over Shelli, the two shared an emotional moment full of tears and hugging. Later, Clay clarified that Meg has essentially had a 'showmance' with everyone in the house and while the two are friends, it's Shelli who has his heart.
At this point, with James in complete power, the only real question was which member of Clelli would be going home. For obvious reasons, James, Meg, and Jackie viewed Shelli as a bigger threat. She's clearly more intelligent than Clay and has won more competitions. The Sixth Sense alliance, however, had different ideas. Despite being a disaster from the start, they are all determined to not give up on the alliance. Austin, and more vocally Vanessa, realized that for their alliance it would be best to keep the stronger player, Shelli.
The big mistake Vanessa has made throughout the game, the one that sets her apart from brilliant players like Derrick, is that she is way too direct and obvious about what she wants. She went to the rest of the house, including the trio of James, Meg, and Jackie, trying to convince them that it would be best to keep Shelli. Her reasons for wanting to keep Shelli included the fact that it's often smart to keep the bigger target in the house and that Clay was actively telling people to vote him out over her. The others, especially Jackie, quickly caught on to what Vanessa was not-so-subtly doing though, and became suspicious. Jackie is definitely starting to realize that Vanessa is not someone her side of the house can trust, as she has constantly affected the game in ways that are negative for them.
We didn't get to see everything that went down in the last few hours leading up to the live eviction, something I'm sure they'll air on Sunday. But if Johnny Mac is to be trusted, things got crazy in the house, which led to Clay receiving all the votes to be evicted. If Meg, Jackie, John, Steve, and Becky had all united and stayed strong in the plan to take out Shelli, they could have successfully taken out one of the biggest threats. Instead, something must have happened that convinced them to take out someone who never would have been able to win the whole thing. At least Clelli got to separate on their own terms though. Going forward, it's anyone's guess as to what will happen. I've given up on making predictions since this season is just so illogical. My one big question is, what ever happened to the Big Brother Takeover that they hyped so much at the start of the season?
[Photo via CBS]