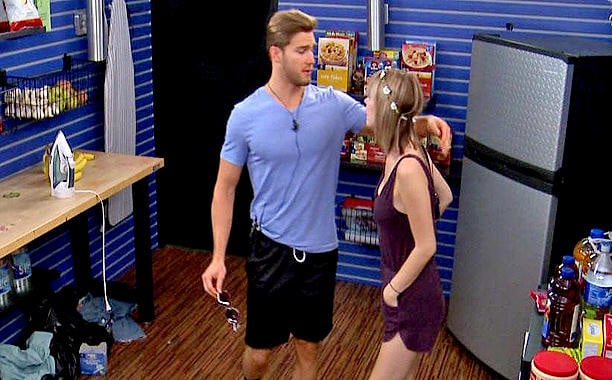 It's been quite the week in the Big Brother house, all starting in Sunday's episode when Austin foolishly shared twin information with Jason, thinking that the move would benefit him and Liz. Like most plans in this game, it failed completely, not only doing nothing to make Jason trust him anymore but also angering his own alliance. Seeds of distrust had been growing between the rest of the Sixth Sense and Austin for a while, and this pushed it over the edge.
In Wednesday's Veto episode, it all came to a head when Clay won the Veto competition. With him on the block, it was obvious that a replacement nominee would have to go up, and Vanessa, who didn't want any blood on her hands this week, was faced with a tough decision. The rest of the house was on board with the plan to backdoor Austin, something that would have been much easier if Jackie had remained HOH. The alliance, if you could even call it that, between Jackie, Vanessa, James, Jason, Meg, Clay, and Shelli all agreed that Austin still needed to go, though. That is, until Vanessa talked to Liz.
Feeling bad about potentially backdooring a close friend in the house, Vanessa wanted to tell Liz what she was planning on doing and why. At that point, Liz was the only one in the alliance who still trusted Austin, knowing that he would always have her back because he's in love with her. Despite not reciprocating those feelings, she's using them to get ahead in the game. When Vanessa and Shelli told her about what Austin did, Liz defended him, also bringing up that he's a number for their side that they'll need going forward.
Liz ended up convincing Vanessa to talk it out with Austin to hear his side of the story. He defended his actions, doing nothing to convince anyone that his initial plan was a good idea. Still, with his back against the wall and knowing that he could be put on the block, he managed to convince Shelli and Clay that they needed to keep him. As two of the bigger targets in the house, Shelli and Clay need numbers on their side and Austin is pretty loyal, even if he is an idiot. They all then had to go make sure Vanessa was on board with keeping Austin.
It was a difficult position for Vanessa to be in, knowing that no matter what she did, she would be angering one side of the house. In the end, she went with her original alliance, thinking that sticking with Clay and Sheli would be more advantageous in the game. I have no idea if it was the right decision but I do think Austin one hundred percent deserved to be evicted. Unfortunately, it's those who don't deserve it who are sometimes sent packing and this time, that was Jason. He worked hard in Thursday night's episode to save himself but couldn't get the votes. Meg cried enough for the rest of us over the unfairness of the situation.
With a new week ahead of us, the houseguests faced a grueling endurance competition at the end of Thursday's episode. On Sunday, we'll find out who won and whether or not another power shift will occur in the house. Right now, Jason's allies seem pretty set on getting Clay or Shelli out, after discovering that they were largely behind him being evicted. If James, Meg, or Jackie win HOH, it wouldn't surprise me if we saw the end of Clelli. Meanwhile, people like Steve and Becky continue to float through unnoticed. While some may call Johnny Mac a floater was well, I don't think the others should underestimate him. He's a great dentist and an even better Big Brother player.
[Photo via CBS]