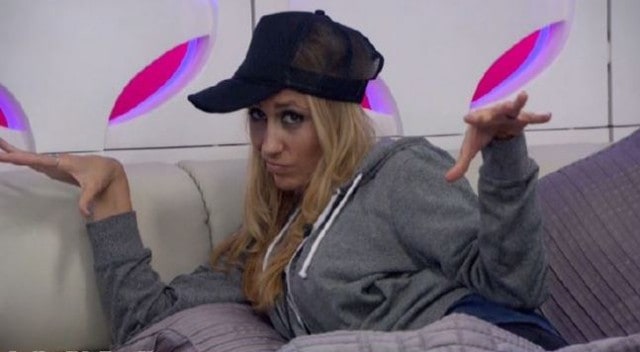 Right when you think things can't get any worse in the Big Brother house, they do. And then they get slightly better. Or at least that's what happened in Sunday night's episode. With Johnny Mac recently evicted and the four jury members coming back into the house to compete in an endurance competition with the last one remaining reentering the house, this was a make or break week for many houseguests. Austin and the twins were concerned about Johnny coming back and targeting them while James was sure that Shelli would go after him and Vanessa feared that she would be Becky or Shelli's target.
As each of the remaining houseguests slowly fell from the competition, we were left with only Vanessa and the four jury members still hanging on. Jackie, Becky, and, finally, Shelli all held on for their life in the BB house but in the end, just couldn't swing it. This left Vanessa and Johnny Mac as the only two remaining players in the HOH, who have been enemies for much of the game but have recently seemed ready to put their rocky past behind them. Right before the eviction, Vanessa had talked to Johnny Mac about the possibility of working together if he came back in the game, a proposition that he readily agreed to. They couldn't let anyone else know about their newfound deal though and had to play it off like they still hated each other.
Knowing he was safe with Vanessa despite how they made it look to everyone else, Johnny 'fell' off and gave the HOH to Vanessa. While she has consistently been one of my least favorites this season, I found myself not minding Vanessa as much in this episode. With Austin and the twins clearly looking after each other more than her, she realized that she needed to go out and make other connections. Johnny Mac and Steve, who haven't worked seriously with anyone in the past, were the perfect two for her to bring into an alliance so that she'd have extra protection in the game.
This left only two people for her to put up, James and Meg. Neither of them have made much of an effort to expand the network of people their working with, content to just float by for a few weeks. They were somewhat working with Austin and the twins but made it clear to Vanessa that they wouldn't hesitate to turn on those three if it benefited their game. Clearly, Austin and the twins were initially gunning for Vanessa to put up Johnny since he's the biggest threat to their game but when they heard about this, they were more than fine with James and Meg going on the block.
Right now, things aren't looking great for James, which is a shame because he's one of the best players left in the game. My hope is that he'll be able to pull off a Veto win and that Steve and Johnny will be able to convince Vanessa to turn on Austin, getting him out when she has a chance. Austin and the twins will continue taking everyone out with no one coming after them, if something isn't done to stop them. While Vanessa has worked with them all game, she needs to realize that they are no longer necessary for her game, and that in the end, they'd take her out if she doesn't get them out first.
[Photo via CBS]