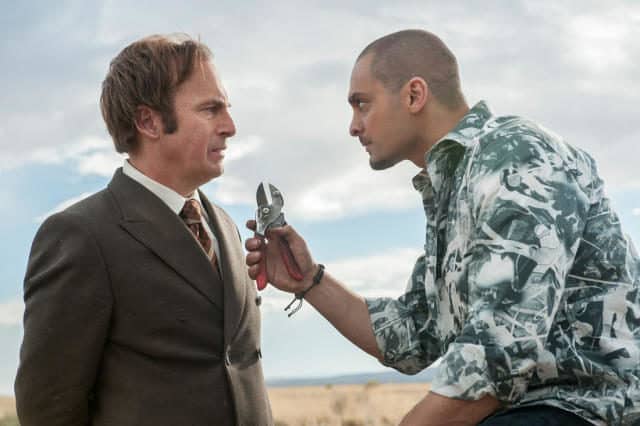 One of my favorite things about any show featuring a really twisted or bad character is when that show makes it nearly impossible for you to hate that character. If you've ever watched Dexter it was impossible to root against Dexter. When you think about it, it's so twisted because he's a serial killer and yet you're rooting for him to kill people because the people he kills are "bad people." But isn't being a serial killer bad? Of course it is! But that show is crafted so well that you pretty much think Dexter is a good guy.
The whole "anti-hero" narrative has been a welcome story in television for the last decade plus and I don't think it's going anywhere. Another show that features a twist of morals is Better Call Saul. While you know how much of scumbag Jimmy really is, at the same time he's actually a man of decent morals and you can't help but want to see him succeed. In real life his character would be incredibly hated but on the show, you have to root for him. I just read this awesome fan analysis of how Better Call Saul makes you question right and wrong and I wanted to share it with you guys.
Saul warns the Kettlemans, a family who stole millions of dollars from a law firm, anonymously that someone is coming for them. Saul also wants the money but he doesn't want their kids to get hurt. The Kettlemans disappear the next day, and the person coming for their money, Nacho, (a gang member who knows Tuco, the leader of the gang who broke the legs of 2 of Sauls con accomplices (skateboarder dudes)) who Saul knows, is caught by the police because he was found near the house the night before the break-in. Nacho blames Saul that he ratted on him, but Saul tells him that wasn't the case. Nacho was just sloppy. So Saul tries to figure out why would the Kettlemans run.
He eventually thinks that they may have kidnapped themselves to protect themselves from being accused of running with their stolen money. He goes on this hunch and tries to find where they would run. He eventually finds them, caught red-handed after they do kidnap themselves. Saul was right. But the Kettlemans explain that they were scared of the person coming for them (Nacho) after they were anonymously warned by Saul, so they decided to run after staging a fake break-in to their house, which implicated Nacho. So they offer to bribe Saul if he can stay quiet that they stole millions of dollars. Saul initially refuses, instead asking to represent them in court after becoming a lawyer.
But the Kettlemans insult him by saying he looks like a lawyer bad guys hire. He is hurt by this. It is shown later that Nacho is released since they couldn't find any evidence linking him to the Kettleman's house break-in. Nacho is still mad at Saul, but Saul says Nacho should thank him. The following scenes show Saul took the monetary bribe of the Kettlemans and starts to build his brand as a lawyer.
TLDR Saul warns family who stole money to run from gang member who wants their money. Family kidnaps themselves and Saul finds them. They pay Saul to keep quiet.
It's clear each person involved in this, is guilty of something, but each person is also somewhat innocent in their involvement with this problem. It's really hard to root for anyone because they are all guilty of something, but at the same time innocent. This show has a real good knack for doing this.
What do you guys think? I can't wait for season 3!