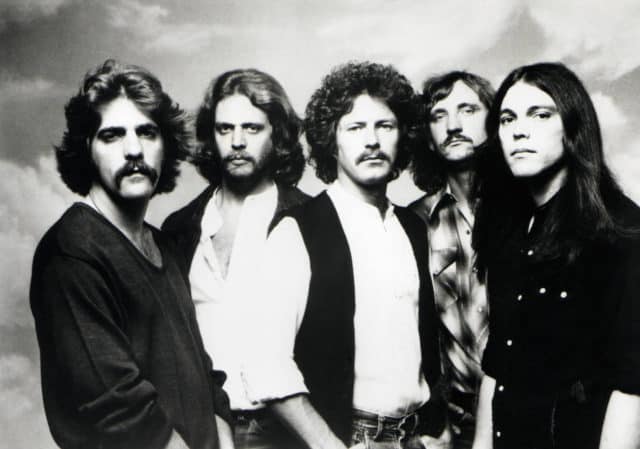 Believe it or not they show up nearly everywhere but they are very hard to find due to so many uncredited uses of their music. Think of nearly any movie you can and it's likely that The Eagles made at least a cursory appearance, or were somehow represented in a way that you can recognize.
5. Peaceful Easy Feeling – The Big Lebowski
First of all, don't have an attitude in a cab. They're bound to be in a moderate to bad mood at times and they don't need to put up with your bad day on top of it. Second, don't badmouth their taste in music. It's their cab and while they're there to service you, YOU are still the one that needs to be polite. And third, which is most important. Don't tell an Eagles fan that you don't like them. That's almost immediate grounds for being tossed out as you can see here.
4. Witchy Woman – America's Sweethearts
The Eagles know how to make a convincing track better than John Cusack and Catherine-Zeta Jones know how to make a cute couple. Okay, lame joke. But in all seriousness the song fits here considering the theme of the film. Cusack seems to star in a lot of these love stories that take a different turn for the better then the worst and then back to the better again near the end. It's definitely a niche role.
3. Lyin' Eyes – Urban Cowboy
This time period seemed to make use of The Eagles quite a bit. Maybe it was that their sound was uniquely popular during the time, or maybe it was just because they were the hottest thing around. Whatever the case it's endured since a lot of people will likely know the movie this song is attached to as well as the song itself. There's something enticing about cowboy's, even if you're just pretending to be one.
2. Heartache Tonight – The Sure Thing
Remember what I said about John Cusack and the love stories? In his youth he was perhaps one of the best in the business when it came to getting jilted or being inundated with women problems. You could even say that a few of his roles in his later years kind of went back to the old drawing board in an attempt to find the glory days, but none of them were ever likely to be as big of hits as this and several others.
1. Hotel California – The Big Lebowski
Yes, The Big Lebowski hits this list twice and for a good reason. Even while it's performed by a different artist in this film, Hotel California is still as recognizable a song as any has ever been. And performed in this manner by the Gypsy Kings, it seems even more edgy, more racy, and a lot more suited to a film of this caliber. There are a great many detractors when it comes to The Big Lebowski and even The Eagles, but let no one ever tell you that either of them aren't great in their own right. If they do, just throw them out of the cab, it worked in the movie.
For as popular as they are this band is very hard to find in film clips, but they are highly prevalent in the film industry no matter that a lot of times their music goes without being noticed. So if you ever feel the need to mention an add on to this list, feel free to chime in anytime.
Save