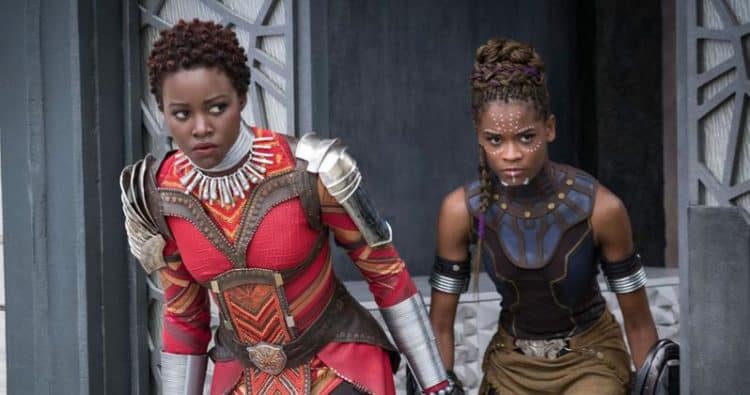 To stay in the kind of shape that's needed for a superhero movie it's not hard to think that Lupita Nyong'o would have to get back into fighting shape, and while the start of her workout, as shown on Instagram, doesn't appear to be that difficult, one can only imagine that it gets harder as things go along. Having watched a few moments of the workouts that the actors take on to get in shape for their roles it's fair to say a lot of us would need at least a couple of months to work up to some of them, especially if we needed to look half as good as some of the actors do. But the main struggle for anyone when it comes to the movie Wakanda Forever is going to be moving forward without Chadwick Boseman since his influence as the main character of the Black Panther movie was a driving force that made everything work. Every character had a place and a purpose in the movie, so it's understandable that Ryan Coogler and his crew will be able to keep things moving in a positive direction.
But still, it's hard to think of moving forward without Boseman simply because he was such a strong force in the MCU and came to embody what T'Challa was all about. His portrayal of one of the best characters in the MCU is going to be missed since he hit the mark so perfectly that the act of recasting him was instantly shot down by fans, and has thankfully been confirmed by the MCU since then. There will be no new T'Challa, but that kind of leaves the idea of who is going to take on the role of the Black Panther up for grabs. A lot of people think that it should be Shuri, which would make sense considering that she has the training and she's insanely intelligent and might serve as a great queen of Wakanda.
Wakanda Forever is now filming apparently, so hopefully, we'll learn more on that front, since it would be great to know what's going to happen and what will be expected. As far as Lupita, she's obviously coming back, as are several of the actors that made the first movie memorable, apart from those that were seen to perish in one manner or another. There has been a lot of talk about bringing Erik Killmonger back, but the fact is that the next time we'll see him is likely going to be on the new What If? series that will be premiering in August, since nothing has really been established with the character, nor if it's even possible to bring him back. Plus, and this is just from a fan standpoint, it might be better that Killmonger is left as he is since T'Challa isn't coming back. The two were mortal enemies in the comics, and it stands to reason that in the movies they should share roughly the same fate since T'Challa might not be the only person who could handle Killmonger, but it does feel that without T'Challa there's no reason to bring Killmonger back.
Wakanda has plenty of enemies that are bound to find their way into the fray since it would appear as though Namor and the city of Atlantis might be next on the docket to take on the technological might of Wakanda. Without T'Challa there to combat Namor though, if he shows, it might be kind of tough to say that anyone else could take on one of the toughest characters in the MCU. It's been shown in the comics that Shuri can and will take on the king of Atlantis, but it's also likely that the power levels of each character in Wakanda Forever might be altered just enough to make it evident that Shuri has more of a chance. However that might go, the fact is that the movie is something that many people are looking forward to with a great amount of excitement since it's a return to a place that many people fell in love with during the first movie. So it stands to reason that Lupita and her fellow costars are going to be hitting the gym, the streets, and anywhere else they need to in order to be in the best shape possible for the movie.
It does stand to reason that people will be curious what is intended to happen with Lupita's character, Nakia since she was romantically involved with T'Challa and is a fierce warrior in her own right. But now that he's gone one has to wonder what arc she'll be given and how it will affect Wakanda. Some might want to think that she should be given a great deal of prominence, and it might happen, but until we know more we'll have to wait and see what will develop.