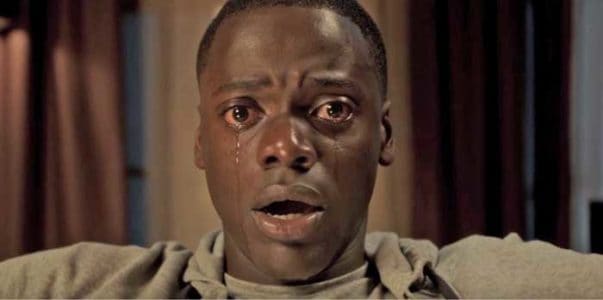 The Shape of Water may have walked away with the highest award at this weekend's Oscars, but Get Out won big at the awards ceremony all the same. Sure, Jordan Peele's socially conscious horror film lost out to del Toro's dark romance, but Peele's riff on The Stepford Wives nevertheless made history Sunday night.
For all the admitted progress that the Academy has made over the last couple years in response to the #OscarsSoWhite controversy, they still undoubtedly had (and have) a long way to go. For instance, no Black director has ever won Best Director at the Academy Awards, even though two, Steve McQueen (for 12 Years a Slave) and Barry Jenkins (for Moonlight) have directed Best Picture winning films. Only three Black writers have ever won Best Adapted Screenplay: all of which have been since 2013. And Sunday night, Jordan Peele became the first Black writer to win Best Original Screenplay from Hollywood's highest awards body.
When you stop and think about it, that's an astounding accomplishment. While the awards body is making great strides to improve from what they had been in years past, they have still had a rather spotty record of recognizing non-White talent. Even Spike Lee's revolutionary Do the Right Thing lost out to the lackluster Dead Poet's Society. And here Jordan Peele triumphed not just against old guard Academy prejudice (both against non-White films and "genre" films), but he did so while directly competing against the eventual Best Picture winner.
Indeed, the times they are a-changing. Thanks to the long-overdue measures that the Academy has taken in recent years — stripping long-since retired filmmakers of their voting rights and inducting a new and revolutionary class of voting members into the Academy — the awards have received a much-needed shot of color in recent years. The films that have been honored across the board have been more unique, more interesting and of overall better quality than at any point in the institution's history.
Moonlight was merely the beginning. Get Out (and, yes, The Shape of Water too) were the next step. Who knows what other new, bold and ever more interesting films will be honored in the future? Rest assured, they will be as colorful and diverse as the world itself. The monochrome days of the Academy Awards are finally at an end.
Tell us what's wrong with this post? How could we improve it? :)
Let us improve this post!