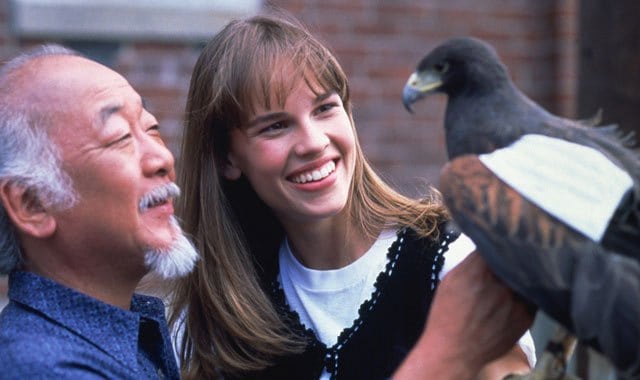 It's kind of hard for people to believe this, but there doesn't have to be any big, fanciful, or negative reason for a star to pass on a movie that belongs to a franchise that they helped to make popular. The idea of why there's no sign of Ralph Macchio in The Next Karate Kid is pretty straightforward; he aged out. What that means obviously is that by the time the third movie came around Ralph was in his late 20s and still playing the role of a teenager, since Daniel's story took place over the course of three movies in a span of a couple of years, which was probably a good thing since postponing the movies any longer would have been a disaster since Ralph wasn't as young as he was supposed to be going into the movie. In fact, it's a pretty common practice to use actors in their 20s as teenagers, provided they can look the part. Remember Grease? How anyone thought those people were teenagers is amazing, but at least the 'teens' in The Karate Kid looked the part. The funny thing is that William Zabka, Ralph Macchio, and Elisabeth Shue were all roughly the same age when they starred in the first movie.
But the reason he didn't get a part in the fourth movie was simply that he was too old at that point to be a point of interest for the story any longer since he was already in his 30s and it was understood that he might not have been the best candidate to keep moving forward with for this story. So the idea of delving deeper into Mr. Miyagi's story was brought to bear, and Julie found herself as Miyagi's next student. Of course, the difference between Daniel and Julie was that she had already been given a bit of instruction by her father when it came to her martial skill. But being that she was kind of an angry person for her own reasons, Miyagi still found the need to reach out to her and help Julie as much as he could. But fans of The Karate Kid can rest easy knowing that there was no huge beef between Ralph and the creators of the story since the fourth movie wasn't created by the same guys and it went in a slightly different direction. There doesn't have to be a massive controversy when it comes to deciding whether a star will be part of a movie or not, since it sometimes comes down to the idea that the star might not be the right person for the movie, and it's entirely possible for the star to agree since it sounds as though Ralph had no intention of being in the fourth movie to start with.
What a lot of people are hoping to see is that Julie will be shown in Cobra Kai at some point since there have been several old faces from the original movies that are still around, and seeing them over the past three seasons has been great since it's definitely tied up a few loose ends over the course of the show. Johnny's old buddies, except Dutch, who had prior engagements to tend to, John Kreese, Ali, Chozen, and Kumiko just to name a few have been a lot of fun to see since they've enriched the show in a big way and given a bit of closure in some cases. There's no way to tell if Julie will show up for the next season or if she'll show up at all, but fans are hopeful that it will happen. They're also hoping that she turns out to be Tory's mother since we haven't seen her face yet. But fans were also starting to think that Terry Silver might be Tory's father, but the math would be all wrong. At least, it's a hope that the math would be wrong since it would mean that Silver had been getting a bit naughty with a younger woman if he'd hooked up with Julie. It still doesn't feel as though it adds up, does it? In any case, that's a lot of conjecture at the moment since as of right now no one really knows what's going to happen other than what's been implied since Daniel and Johnny are combining their dojos in an attempt to get rid of Cobra Kai for good.
As far as Julie having a place in this, that would be up to the writers and possibly Hilary Swank if she wants to step fully into the Karate Kid storyline since she's already there in a big way, but seeing her finally show up and join the group would be great enough to satisfy a lot of fans. We'll just have to wait and see, and hope.