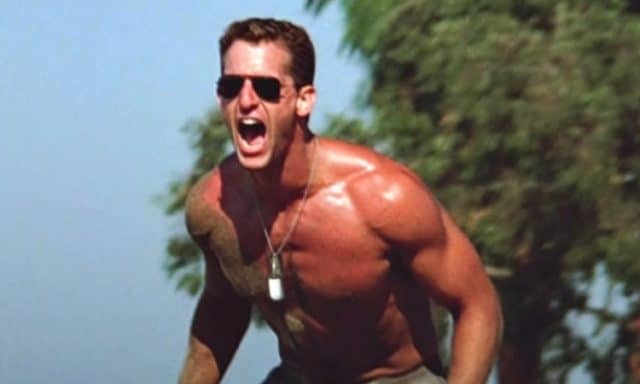 Rick Rossovich has the distinction of being one the nicest guys to work with and has been deeply respected by many of his peers and fellow actors throughout his career. He was more of an 80's stud than anything as he's kind of an old man at this point. But then a lot of guys have finally come to the point where age is taking hold after having enjoyed the 80's and 90's when it came to the peak of their fame and looks.
A lot of actors that were thought to be buff and prime for the movies have started to age, it's pretty natural.
5. Artworks
When you put a person who is the daughter of a person that installs home security and an art gallery owner that might make for a rather dangerous mix if they share the disdain of others that attempt to purchase works of art that they don't fully appreciate. That could lead to a world of disaster and possibly a lot of mistrust if one or the other person decides to back door the other and take everything for themselves.
4. Sandbar
Sometimes the hardest thing to do is come back to the world after a life spent in the military and try to acclimate to what you know you should be doing. When Ronnie's estrange son comes back into his life he's more than ready to try his hand at being a father again. But when his kid's girlfriend manages to put them in a bad way with some worse people it's time to go on the run in an attempt just to stay alive.
3. Roxanne
Rick plays the new guy at the fire house and proves to be kind of a jerk as he tries to not only be the big shot in the place but also does a very fumble-worthy job of trying to win the affections of the same woman that his new boss is interested in. In the end he decides to take off since the woman he's trying to be with is a little too intellectual for him, while Steve Martin's character thankfully gets the girl.
2. The Terminator
There's not much to say here since he was getting his freak on with Sarah Connor's roommate and the Terminator decided to make a house visit. When an unstoppable killing machine lets himself in the last thing he's going to be intimidated by is "Don't make me bust you up man!" But of course Rick does just that thinking he's all big and bad. Boy gets thrown through the door like a sack of wet laundry.
1. Top Gun
It kind of seems like Rick was more of a supporting player in bigger films since as Slider he didn't have a huge, prominent role in this movie, but he was there all the same. Rick seems to be one of those guys that was thought to be part of the future when it came to those that were good-looking and had it all put together. But unfortunately back then as now the market kind of got flooded for that type.
He was a stud back in his day though.