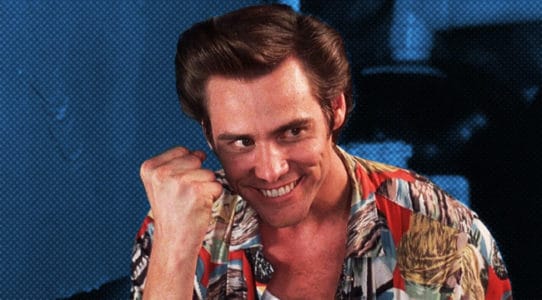 Jim Carrey set the world on fire in 1994 with not just one but three cinematic mega-hits: "Ace Ventura Pet Detective," "The Mask" and "Dumb and Dumber." This was a very much unheard of phenomenon at the time. Who was this incredibly funny individual who came seemingly out of nowhere, whose hilarious, over-the-top facial contortions outmatched even Jerry Lewis with not just one but three hits, back-to-back, to back?
Carrey revisited the iconic Pet Detective character one last time in 1995. But not, according to most sources, on account of any genuine desire to do so. Carrey had only taken on the role of Ace one last time because he was contractually obligated to do so. He was also contractually obligated to reprise his role as Stanley Ipkiss in a sequel to "The Mask," but had reneged at the last minute. Apparently, after When Nature Calls' release, Carrey had had his fill of sequels. He had done more comedy and ventured out in uncharted territory: drama, with usually high critical praise ("Truman Show," "Man on the Moon.") And then in 2014–nearly twenty years since the rambunctious pet sleuth went to Africa–Carrey had finally made exception to his rule and starred in the long-awaited "Dumb and Dumber To," alongside Jeff Daniels.
Lloyd Christmas and Harry Dunne fans needn't be the only ones to celebrate: According to a new scoop on a popular movie news website, Carrey might be interested in revisiting everyone's favorite animal gumshoe one more time. Last week WeGotThisCovered.com reported that an "Ace Ventura 3," with none other than Mr Carrey himself onboard, was in the earliest stages of development.
"We learned yesterday that Morgan Creek Productions and Warner Bros. are apparently in the early stages of development on "Ace Ventura 3"…it'll apparently see Ace being called out of retirement to save a rare lion," reported WGTC.
Many chalked this up as just another untrustworthy news story by a nameless source. The Internet is rife with he saids, she, after all… Whenever you read "unnamed source" you might as well be reading, "Take this with an enormous grain of salt." Also, to make the report further seem less than credible, Tommy Davidson –who co-starred alongside Carrey in 1995's Ace Ventura: When Nature Calls–had this to say to Usmagazine.com last year: "Carrey doesn't want to do it now. But Jim is one of those kind of artists that, you know, he does what he feels, he does what he believes in. I asked him about it. I told him, 'Hey man, it'd be nice in Jamaica.' He said, 'No I'm not doing those now." ("Now" is the operative word here. Context is also crucial: The article was written more than a year ago.)
In addition to Davidson's testimony, Carrey has always been pretty unflinchingly against bringing back past characters for a second course–with "When Nature Calls" and "Dumb and Dumber To" being the only sequels he's ever done.
Somehow, however, I get the feeling WeGotThisCovered's source could be telling us the truth.
Interestingly last week Morgan Creek — the distributor of the first two Ace Ventura movies–actually tweeted a link to the WeGotThisCovered article in question.
https://twitter.com/Morgan__Creek/status/1203402277786046466?ref_src=twsrc%5Etfw
If the WGTC story were fabricated entirely–and Carrey weren't at the very least in talks to reprise the "Ventura" character–would Morgan Creek even be acknowledging their article by tweeting it, with two flabbergasted large-eye emoticons beside it?
I would think not.
Clearly, there must be some truth to all this! Carrey must be really in talks to don the loud Hawaiian shirt and loud striped pants to play "Ventura" again!
Of course, we still don't know if this movie is actually going to happen, but if Carrey is interested — and that seems to be the case taking into consideration my rational deducements above — then this movie is a no-brainer and a huge moneymaker for Morgan Creek. "Dumb and Dumber To" grossed $169.8 million and it cost a mere 50 million to make; "Ace Ventura: When Nature Calls" grossed $108.3 million on a budget of 30 million.
And what else I find interesting is that, unlike the first two installments, part 3 will be making an uncharacteristically big political statement for the "Ace" franchise. Reportedly, this latest "Pet Detective" outing will be based on the tragic story of Cecil the Lion, who was killed by hunter Walter Palmer back in 2015. What little we know of the plot sounds, to me, very believable: Take one look at Carrey's artwork and you'll notice he isn't afraid of controversial subjects–and a big-screen polemic against trophy hunting might be right up his alley.
Yes, folks: "Ace Ventura 3" might serve as being something more than a hugely entertaining sequel to a widely entertaining pair of movies from the early to mid nineties, respectively (and that would be good enough, in this author's opinion.)
It could also be something deeper: an extremely entertaining flick with a healthy dose of social commentary.
If it happens, I'll be there, opening day.
How about you?
Alrighty, then.
Tell us what's wrong with this post? How could we improve it? :)
Let us improve this post!