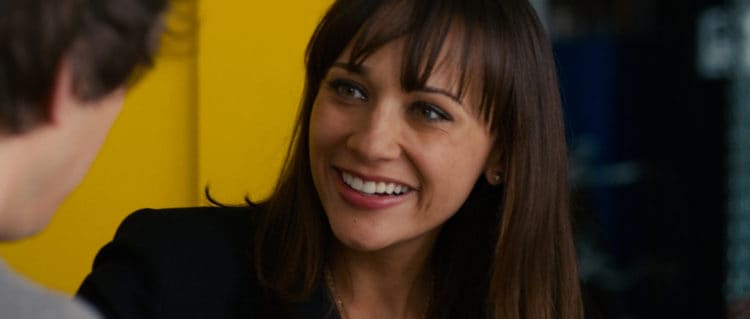 Rashida Jones is an actress, writer, and producer who was born in Los Angeles on February 25, 1976. Jones is partly well-known because she comes from a famous family. Her father is actor Quincy Jones and her mother is Peggy Lipton, a singer, actress, and model. Jones' sister, half-sister, and half-brother also all work in the entertainment industry. She began her career in the entertainment industry in 1997, and she is known for her roles in television. She is best known for her role in 'Parks and Recreation', in which she appeared between 2009 and 2015. Other television series in which she has appeared include 'Boston Public', 'The Office', and 'Angie Tribeca'. In the latter, she played the lead eponymous role. Jones has also appeared in many films throughout her career. In terms of her film career, she has appeared in some very successful films. Here are the five best Rashida Jones movies of her career:
5. Our Idiot Brother
'Our Idiot Brother is a 2011 comedy-drama film that was directed by Jesse Peretz and the script was written by David Schisgall and Evgenia Peretz based on the story by Jesse and Evgenia Peretz. It is about a dim-witted man who causes havoc in the lives of his three sisters. In this film, Rashida Jones plays the role of Cindy Harris, who is the girlfriend of the youngest sister. Paul Rudd stars in the lead role, and the movie also stars Elizabeth Banks, Zooey Deschanel, Emily Mortimer, Steve Coogan, and Hugh Dancy. This film was made on a budget of $5 million and it grossed $25.9 million at the box office. This film was generally well received by critics.
4. Tag
'Tag' is one of Rashida Jones' most recent films as it was released in 2018. It is also one of her most successful. This comedy film is based on a true story that The Wall Street Journal Published about a group of grown men who play a huge game of tag that lasts for a whole month each year. The men depicted in the film are played by Jake Johnson, Jon Hamm, Ed Helms, Jeremy Renner, and Hannibal Buress. Rashida Jones plays the role of Cheryl Deakins, and the film also stars Isla Fisher and Annabelle Wallis. 'Tag' grossed $78.1 million from a budget of $28 million.
3. I Love You Man
This 2009 comedy film was originally called 'Let's Be Friends'. It was both written and directed by John Hamburg. It is about a man who is about to get married who needs a best man, but realizes he has no friends. He looks for a new friend who can fill this position, but the man he meets puts a strain on his relationship with his bride-to-be. In this film, Rashida Jones plays the role of the bride Zooey Rice. The two male lead roles are played by Paul Rudd and Jason Segel. This was the third time that Rudd and Segel have appeared in leading roles in the same film. Others who starred in this movie include Andy Samberg, Josh Cooke, J.K. Simmons, Jane Curtin, Jaime Pressly, and Jon Favreau. 'I Love You Man' was critically well-received, with praise being given for the hilarious performances of Rudd and Segel. The film has a Rotten Tomatoes rating of 83 percent, which is excellent. The film was also commercially successful. From a budget of $40 million, this movie grossed $91.6 million at the worldwide box office. Unfortunately, the film did not win any awards, despite several nominations.
2. The Muppets
Released in 2011, 'The Muppets' is a musical comedy film. It is the seventh film that features The Muppets This film was directed by James Bobin and it is co-written by Nicholas Stoller and Jason Segel. In this film, Rashida Jones stars as Veronica Martin, who is a network executive at the CDE network. The film also stars Jason Segel, Amy Adams, Chris Cooper, Jack Black, and Zach Galifianakis. It is about a fan of the Muppets and his two human friends who try to get the Muppet gang back together to stop an oil mogul from taking down one of the precious treasures of the Muppets. The Muppets was a critical and commercial success as it was positively received and it grossed $165.2 million at the worldwide box office from a budget of $45 million. For McKenzie's song 'Man or Muppet' this film won an Academy Award for Best Original Song. It was also nominated for a BAFTA and for Critic's Choice Awards. The sequel to this film was called 'Muppets Most Wanted', and this was released in 2014.
1. The Social Network
In terms of commercial success, 'The Social Network' is the most successful film of Rashida Jones' career. Despite a fairly limited budget of just $40 million, this movie grossed $224.9 million at the worldwide box office. It was also a critical success with positive reviews from most critics, and it was chosen as the best film of 2010 by the National Board of Review. Furthermore, the film has won multiple awards. It was nominated for eight awards at the 83rd Academy Awards, of which it won three. These were for Best Original Score, Best Adapted Screenplay, and Best Film Editing. 'The Social Network' also won four Golden Globes for Best Director, Best Screenplay, Best Original Score, and Best Motion Picture- Drama. This biographical drama film was written by Aaron Sorkin and directed by David Fincher. It is about the founding of Facebook and the lawsuits that followed. Rashida Jones plays the role of Marilyn Delpy, while Jesse Eisenberg starred as Facebook founder Mark Zuckerberg. Others who starred in this movie include Andrew Garfield, Justin Timberlake, Armie Hammer, Max Minghella, Brenda Song, and John Getz.
Tell us what's wrong with this post? How could we improve it? :)
Let us improve this post!