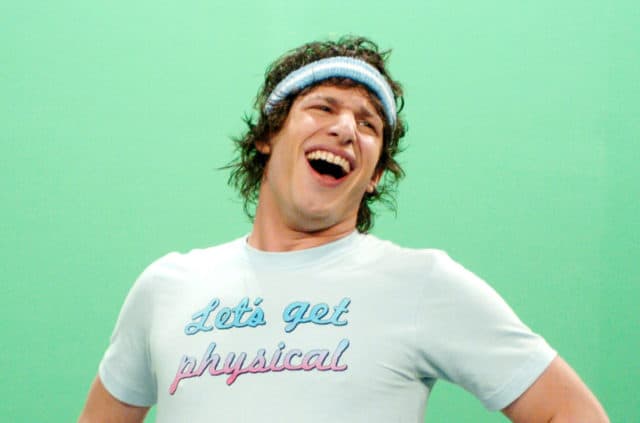 Andy Samberg is good at yelling. He's not the next Adam Sandler but he doesn't need to be and that's great. He's made a name for himself with the younger crowd and has found his own niche to fill which is awesome. I have to admit that the first time I saw this guy I wasn't too impressed, but as time went on I had to admit that he was doing a lot of good things and was very entertaining to say the least. As of now he's still not my favorite comedian but I do have a lot more respect for him and what he does. His comedy is something you kind of need to get used to but once you do it becomes easier and easier to laugh.
He's still hitting his stride I think.
5. Hotel Transylvania
This was kind of an odd but cute movie by Adam Sandler that featured movie monsters in a much more kid-friendly manner. It was a bit over the top in some regards but was still something that managed to reach children on a level they could understand and still brought back some of the greatest movie monsters in a way that was fun for older viewers.
4. Hot Rod
Revenge is a great motivator and in Rod's case is the only way that he'll manage to get his stepfather well again so that he can finally kick his butt. Getting beat up by an older man isn't always an embarrassing proposition but having to go through it again and again and never seeming to learn how to get tougher or the tricks that the older man employs makes it sound like a futile effort.
3. Storks
So apparently storks don't deliver babies any longer in this movie. Instead they're moving towards delivering packages just like any other delivery service. However if they stop delivering babies it seems like they would eventually go out of business altogether, so a scheme is hatched to deliver one baby so that people will continue to believe in the stork delivery service.
2. Popstar
A pop star that needs to believe he's awesome is, in reality, kind of a doofus that knows how to employ those that will be entirely agreeable when they're around him because they're being paid and are mooching off of his success. But when his career begins to decline he's going to have to do something that he's never really been good at, he's going to have be a genuine pop star.
1. That's My Boy
Many folks might say that this movie was just too campy and too moronic even for an Adam Sandler movie. In fact it was kind of a mess but for the most part it was also kind of funny since Sandler got to go way over the top and cut loose in a way that a lot of people haven't seen since Billy Madison. As a young father that had to raise his son while he was still a child himself, Donnie eventually comes back into his son's life and basically screws everything up. It's a laugh riot throughout most of the movie.
Andy Samberg could be great one of these days.