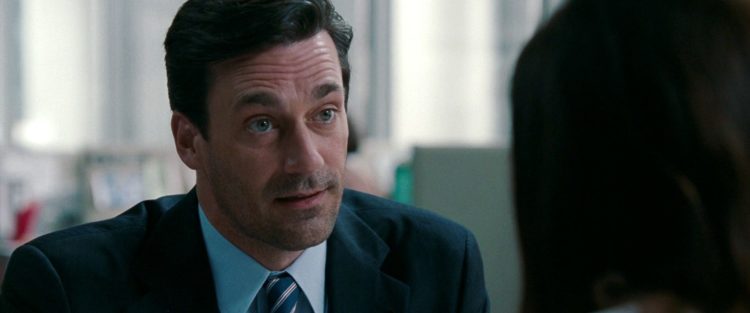 Jon Hamm feels like a bundle of wasted potential at this moment since the guy is simply too talented to be given bit and supporting parts again and again. He's been the jerk, the nice guy, the villain, and he's been someone that you want to see succeed. But so far the lead position doesn't seem to be something that he's really being set up for, even if he's been put in that position. Jon has too much talent to be put into movies that are a non-starter, but there have been movies in which his part was so well done that you can't help but be glad he was there. There is a rumor that he would like to take part in a Star Wars movie, and to be quite honest that could be something that might be kind of interesting if it happened. Jon needs a big part to really explore what he can do, something that will showcase his talents in epic fashion.
Here are five movies that stand as his best thus far.
5. The Town
In a movie featuring bank robbers and an FBI agent the worse thing anyone can do is try to fool the agent since too often those individuals are crooked or driven to a degree that they'll do anything and everything within their power to track down and nail their quarry. Jon's Boston accent is a little shaky but otherwise he comes off as kind of intimidating and as a result is more than a match for Affleck and his crew. He almost looks like the kind of guy you could just talk to and think that you're friends with for a while, until that cold glare comes across and you realize that he's suckered you into a false sense of security.
4. Million Dollar Arm
Being a sports agent is something that can vilify a person or make them into the silent but useful force behind an athlete. Hamm plays a man that's just about on edge when his clients start to retire and he fails to lock down one of the most important clients of his career. When he figures out that India might be full of untapped potential however he alerts his partner and they go out to find the kind of individuals they need to keep their business going. Eventually they find a couple of pitchers that are extremely good at what they do, but quickly realize that these young men are not used to the pressure that comes with being an athlete. Thankfully they have one more chance that pans out by the end of the movie.
3. Bridesmaids
This is when you get to see Hamm as one of the worst jerks in a movie since he's just that, a jerk that doesn't seem to realize he's being a jerk. This movie was a different kind of hilarious since it really takes a certain kind of humor to get into it. But once you do the laugh riot just doesn't stop since it's a nonstop joke fest that makes good use of every comedian and actor within the movie. Hamm is the kind of guy that gets what he wants from women and then just cuts them loose, the kind of guy you'd rather drop kick shortly before taking the woman he's with to show her a better time.
2. Tag
Imagine playing an ongoing game of tag for three decades and every year there's a single month in which anything goes and everyone is able to be tagged. A lot of people might not have thought that this movie was going to be much of anything, but seriously, when the movie gets rolling it starts to get funny when the main point is revealed. Jerry, the king of the game since he's never been tagged, is the target that his four friends are seeking to finally dethrone in this hilarious movie as they do whatever they can to simply tag him, only to be reminded why he's the best, and probably the most elusive of them all.
1. Baby Driver
This is another movie where Hamm gets to be a supporting character but at the very least he's an entertaining one since by the time it comes down to just him and Baby it's become a grudge match in which only one person is going to walk away. It's a huge switch from the first bank job to the last encounter between Hamm and Ansel since in the beginning they get along. By the time the movie is getting ready to end though Hamm's character is full-on bad and ready to dish out some serious pain. All in all this movie was pretty cool even if it wasn't entirely realistic, but hey, movie magic is what makes a lot of films great.
He needs a lead role that will stretch and test his abilities in a big way.